Encore Data Products to Offer Hamilton Buhl Kidz Phonz Headphones
Industry: Education
Made entirely from a single piece of EVA foam, Hamilton Buhl's Flex-Phones, now available through Encore Data Products, is the latest audio equipment release to cater to
Denver, CO (PRUnderground) February 17th, 2015
Made entirely from a single piece of EVA foam, Hamilton Buhl's Flex-Phones, now available through Encore Data Products, is the latest audio equipment release to cater to child safety. Known as ethylene-vinyl acetate, EVA is a copolymer of vinyl acetate and ethylene known for its stress-crack resistance, waterproof properties, low-temperature toughness and UV radiation resistance. It is also respected for its similar function in roles that vinyl and rubber are usually used for. Most importantly, it is 100% free from BPA and is virtually indestructible, making it as kid-friendly as a set of headphones can be. They are even certified for all major international and US child safety standards.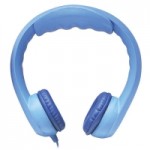 Externally, the headphones are designed to withstand even the most intense abuse at young hands. One piece of plastic means there is less chance of small parts breaking. In addition, because it is designed as a full piece with no interconnecting parts, children are free to bend and twist it without the fear of structural damage. The way to adjust it to fit differently sized heads comes by way of an ingenious method. There is a section along the top that can fit an extension band. This band works very much like the extra pads used inside of bicycle helmets to make them smaller. Simply attach the band to the top and the headphones sit higher off of the child's head, lifting the speakers to ear height in the process. Since the size can be changed, they are marketed as "the headphones that grow with you."
Instead of the typical plastic casing surrounding the cord, a woven material is used, similar to that of shoelaces. Such a decision means the cord can endure a lot more bending and direct damage without the risk of exposing the internal wires. For instance, the edges around the headphone ear and the plug will be far less likely to rip open like they do when coated in plastic. As for the plug, it is a 3.5mm stereo, ideal for use with virtually all electronics. Tablets, cell phones, computers, CD players and so much more are all compatible with this brand. The Flex-Phones even come in different colors. Children can choose between red, black and blue. Just remember that durable does not mean stain resistant. If you're worried about your child drawing on or otherwise marking their headphones, black is your safest color.
Internally, safety measures have been taken to protect the development of the young eardrums. The volume never exceeds 85 decibels. This is about as loud as city traffic is when you're sitting a car with the windows rolled up so there is no need to worry that the speakers won't be loud enough. Anything of a high volume is shown to cause permanent damage to the eardrums. Even with this restriction, the sound remains clear and unaltered.
Hamilton Buhl, the inventor of the Flex-Phones, has been around since 1933 and knows what it takes to produce engaging and safe electronics for children. After merging with Buhl Industries in 2011, they have gone on to push the bounds of innovation within the realm of technology. They seek to enhance learning and teaching through innovative means. Today, more than just the educational sector invest in their brand. The government and even individuals looking to increase engagement with their audiences turn to Hamilton Buhl.
Encore Data Products, the distributer of these headphones, is a privately held company founded in 2006 and currently located in Louisville, CO. They focus heavily on the delivery aspect of technological equipment, providing options for clients in medicine, music, entertainment, hospitality, education, military and government. They are even paired with Bongo for international shipping. Aside from top of the line customer service, their products are competitively priced, easy to order and free to ship within the continental United States.
About Encore Data Products
We are a privately held company located in downtown Louisville, CO founded in 2006. We have a wide customer base that includes clients in hospitality, medicine, education, professional music, TV & film, government, the military and more. Our ever-expanding product selection and free shipping options make us the first and only stop for clients around the U.S.