Electrific Soutions Inc. Announces Health and Wellness Fair in Danbury, Connecticut
Industry: Health and Nutrition
Electric Solutions Inc will be sponsoring the 14th annual Be Electrific Day Health and Wellness Fair, where the first Connecticut Screening of "The Keeper of the Keys" movie will be shown.
Danbury, Connecticut (PRUnderground) February 9th, 2012
Electrific Solutions Inc., the sponsor for the annual Be Electrific Day Health and Wellness Fair, announced the 14th Annual Fair at the Maron Hotel on Mill Plain Road, Danbury this Saturday. Be Electrific Day celebrates the birthday of Thomas Edison, and is a day to honor all he has given the world. It is also a day to find the electricity within our own bodies and perhaps reinvent our lives. Vendors, therapists and practitioners will all be available to guide and coach you.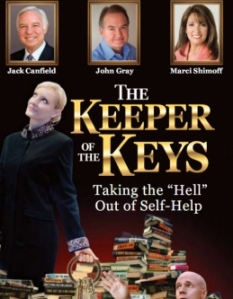 During the Health and Wellness Fair, "The Keeper of the Keys," the first funny self-help movie will also be shown. This movie stars Jack Canfield co-creator of the "Chicken Soup for the Soul" franchise, Dr. John Gray author of "Men are from Mars Women are from Venus," and Marci Shimoff, author of "Happy for No Reason," and "Love for No Reason." The movie also features 15 experts – personal development speakers, coaches and authors. One of the experts is Carolyn Finch, the internationally known speaker on Body Language and a resident of Danbury, Connecticut.
Robin Jay, producer from Las Vegas says, "ever since the success of 'The Secret,' self-help films have followed the same formula of delivering endless sound bites from dozens of 'talking heads.' I wanted to do something more entertaining and compelling. For that, a movie needs to be funny. I think we have to engage the viewers before we can empower them. I believe we have accomplished exactly that." Director Scott Cervine, owner of Movies from the Heart (www.MoviesfromtheHeart.com) partnered with TwoBirds Inc. to create a unique experience for movie goers and a real treat for fans of personal development, while taking the "hell" out of self-help. 'The Keeper of the Keys 'blends unique expert segments within a very funny fictional story." (www.TheKeeperoftheKeys.com)
Robin Jay also stated, "The array of experts includes Carolyn Finch who at 73 is going to be an inspiration to all who see the movie, Carolyn refuses to slow down. She embodies a tremendous motivational spirit and spreads her engaging messages of hope, humor and communication to audiences of all ages proving that you are never too old to be the star you were meant to be."
The Be Electrific Day Health and Wellness Fair will be held on Saturday, February 11, 2012, from 11am until 3pm, at The Maron Hotel and Suites, on Lake Ave Extension (Mill Plain Road) Danbury, CT. It will include a variety of vendors. A $7.00 donation is suggested for the Be Electrific Day Scholarship Foundation and children are free.
The movie "The Keeper of the Keys" will be shown at 11:30 A.M. and 1:30 P.M.
There will also be a visit from Benny the Robot. He has been created by the Brookfield High School Robotics team in conjunction with United Technologies and a group of local sponsors.
For additional information on Be Electrific Day, the movie, Robotics and The Health Fair email carolyn@carolynfinch.com or call 203 -791-2756.
About Carolyn Finch:
Carolyn Finch, MS SLP is an internationally recognized Body Language Expert and an authority on speech and interpersonal communication. She combines her expertise from business, education and the medical world with entertainment talents that are memorable. She has been a medical researcher and health care practitioner for over 25 years. Her experience ranges from early child intervention to the recovery of comatose patients.
Carolyn is president of Electrific Solutions, Inc. Her background includes consulting with corporations and health care facilities and teaching at the university level for over 28 years.
Guest spots in the media have included The Ellen DeGeneres Show, VH1 Red Carpet Special, CNBC News and the Rolanda Watts Show. Most recently, she was on Good Morning Namibia in Africa. She has been interviewed for magazines and newspapers, including the TV Guide and Cosmopolitan Magazine. She has authored and co-authored several books and is featured on the cover with Bernie Siegel MD, Dr. Earl Mindell and Dr. Norman Rosenthal in the newly released book Dynamic Health. She has been featured in the book Creative Innovators, is the author of Socks Says! and Universal HandTalk (A Survival Sign System).
About