Electrical Commercial Wire Company, Cole Wire, Offers Solutions for Wiring for Many Industries
Industry: Electronics
Cole Wire, a commercial electrical wire company, provides a wide range of wire products and solutions for many industries.
Lincolnshire, IL (PRUnderground) January 29th, 2016
Although many wire companies stock and sell a wide range of commercial wire products, few of them are able to compete with the quality of the wire products that are available from Cole Wire. Since opening its doors in 1979, this company has grown to become one of the largest stocking distributors in the country.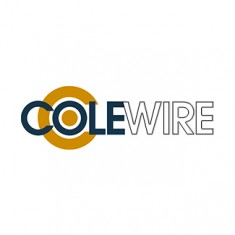 The inventory of commercial wire products at Cole Wire covers virtually all varieties of electronic wire, electrical wire and cable such as hook-up wire, building wire, electronic wire, high temperature, portable cord, white portable cord and tray cable. Other products available from the company include low voltage wire, motor lead wire, and mining cable, welding cable and Hawke cable glands.
Employees at Cole Wire also provide a wide range of services to clients in order to ensure complete customer service satisfaction. These include being able to custom color and/or custom stripe wire and printing (if required), cut wire to required customer lengths, wire twisting and cut and strip services. No additional cutting charges are levied on cable that is cut to customer requirements.
Customers who require specific amounts of wire that are less than the minimum requirements but who don't want to become a stocking warehouse can purchase their wire from Cole Wire, as the company will stock it on their behalf and ship it directly to them as they need it.
When dealing with Cole Wire, customers can look forward to receiving fast competitive quotes, the best possible service and same-day shipments. In addition, the company offers a 24-hour emergency service to ensure that wire products can be supplied the moment they are ordered.
Anyone who would like to find out more about the range of electric commercial wire products that Cole Wire sells can do so here: http://www.colewire.com.
About Cole Wire
Cole Wire is one of the largest stocking distributors of electrical and electronic wire and cable in the country, carrying virtually all types of both. We continually strive to be the most reliable full-service distributor in the country.