EduNiche Offers Homework Help in Just $0.99 for Student Benefits!
Industry: Education
EduNiche offers homework help in just $0.99 to reduce the homework burden of students and help them to complete their schedules on time and score well in their subjects.
United States (PRUnderground) August 25th, 2015
EduNiche is an online tutoring company in Texas which offers a spectrum of educational services for students of various categories in all subjects. The Company offers unique homework solutions for students in all subjects like English, Math, Science, Accounting and Computer Science. EduNiche extends homework help for students just $0.99 through expert tutors who have years of experience with which they can answer any homework challenge.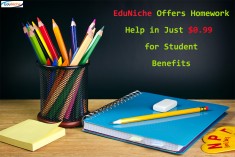 Students can contact the tutors of EduNiche for getting homework solutions through Skype or live chat. They can text message their queries or send their homework requirements through mail. The tutors are ready to attend to their queries at any time with their 24/7 services. The customer support is also ready to render support to students 24 hours a week.
EduNiche has established its fame for rendering timely support to students in their homework struggles through screened and certified tutors who have the expertise to handle the demands of students in any intricate subject topic. The online classrooms are well equipped with latest tech tools to help students interact with tutors without interruption.
Online tutoring sessions in EduNiche are on one-one basis with individualized strategies and solutions. Students who wish to seek homework help from EduNiche can contact the tutors in online classes where they have the chance to work with the tutors on white board for their Math and Science problems. The tutors explain the problems step by step and make the students understand the formulas and equations without doubt. They rectify the students 'errors on the spot and improve their knowledge in the subjects.
Homework help in just $0.99 from EduNiche is a great offer for students who need to refresh their subject skills while entering the new classes. Avail the opportunity and get more and more clarifications for your subject doubts through expert tutors of EduNiche. It is a great chance for you to improve your knowledge through doubtless homework and revision of tough topics.
Thus, the offer of homework help in $0.99 is a great move from EduNiche to help students access benefit through clarifications for their doubts in homework tasks from experienced tutors.
About Eduniche
EDU Niche is a leading provider of online tutoring services to students of all ages, having provided tens of thousands of hours of help to students in every subject, from basic math and English to AP and college level courses.