Ecostinger Makes a Splash in the Global UV Protection Swimwear Market
Industry: Womens Apparel
The creative team at Ecostinger combines beach enthusiasts, lifestyle designers and textile experts to create the perfect range of sun protective clothing.
Sarasota, Florida (PRUnderground) July 17th, 2015
Whether you have planned white-water rafting session or just strolling around the beach for the afternoon, chances are that you will equip yourself with UV-blocking apparel and accessories. The era of stiff UV-blocking fabrics that often irritated the skin and limited your overall mobility is behind us. With the arrival of innovative swimwear fabrics and brands like Ecostinger pursuing excellence in this niche, you can expect breathable, well-fitting, and effective anti-UV apparels featuring the latest fashion trends.
Sun-induced damage is not just about increasing your risk of getting skin cancer—it is also about compromising the overall health of your skin. Exposure to the skin leaves the skin drier, more prone to developing typical signs of aging. Despite public education programs across most beach locales in the US, it is seen that young adults and children are hard to contain in terms of being particular about applying anti-sun lotions or SPF creams. From causing basal cell to squamous cell cancinoma, sun's rays continue to induce long-term damages, particularly among the seniors—the effects are usually irreversible.
This is why Ecostinger chose the path of creating anti-UV swimwear that performs dual duty of being fashionable beachwear and an effective sun-protective apparel, including options for children. The creative team at Ecostinger combines beach enthusiasts, lifestyle designers and textile experts to create the perfect range of sun protective clothing. These smartly woven swimwear choices perform at par and beyond the realm of global standards in this segment. Featuring the highest levels of Ultraviolet Protection Factor (UPF) for these types of garments, the SPF-safe swimwear is now being retailed by established pharmacies apart from beachwear stores in the US—underlying the widespread acceptance of Ecostinger as a premium provider in this niche.
Overview of Sun Protective Apparel Marketplace
The sun protective clothing marketplace is still largely unorganized. The issue lies in the lack of state or regulatory authorities to ensure that each piece of clothing carrying SPF or anti-UV rating is as effective as it claims to be. While the demand for sun protective clothing rises exponentially and more online choices become feasible, consumer awareness levels about UPF–rated swimwear or accessories is lower than anticipated. This is a major reason why sun protective apparel continues to be sold at unjustified prices. From suntan-seeking populations to those dwelling in high UV risk geographies, there is a constant need for such products with the assurance of affordability.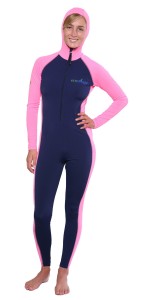 Ecostinger takes a more curated approach to creating its special line of sun protective swimwear that also doubles up as effective active-wear. The emphasis is on ensuring comfort whether the user happens to be a performance swimmer or requires outdoors sportswear. This is why Ecostinger range of swimwear has a presence all along the major beaching hubs along the US coastline. This includes locations like Miami Beach that have gained notoriety for high incidence of sun-induced damage to the skin. Ecostinger has been able to address these challenges with its innovative anti-UV apparel that offers UPF50+ rating and yet manages to assure you of sublime comfort, using Italian fabrics.
The creative team at Ecostinger dwelled on its own experiences, dating back to the 1980s, to understand every aspect of sun-induced damage and dangers posed by beaches and indoor swimming pools. This is why the beachwear from Ecostinger does much more than just blocking away the sun's UVA and UVB rays. This special fabric is also resistant against the usual indoor pool contaminants like chlorine and jellyfish stingers found in seawaters. Equally immune to surface-level abrasions and effective in protecting against a wide spectrum of bacteria, Ecostinger fabric envelopes your skin like a thin but effective layer.
About Ecostinger
EcoStinger uv protection full body swimsuits and sun protective clothing rated UPF50+ protect against UVA and UVB radiation plus box jellyfish stingers and other sea creatures