DSrupted 2015 Conference Puts Focus On Real-Time Data As Content
Industry: Digital Signage
The use of real-time data to inform, shape and be content is primary theme for Sept. 16th DSrupted conference on disruptive digital signage technologies, in Toronto
TORONTO (PRUnderground) July 2nd, 2015
The use of real-time data to inform, trigger, shape and be the content is the primary theme for the second annual DSrupted conference on disruptive technologies in digital signage and advertising, set for Sept. 16th in Toronto.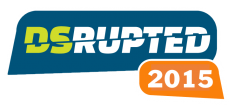 The unique one-day conference brings together subject-matter experts to talk about emerging technologies and trends that are re-shaping the business of running content and advertising on distributed networks of digital screens – for retail, advertising and business communications.
Unlike many conferences packed with speakers and short talks, each DSrupted presenter has a full hour to explore their topic, with 15 minutes planned-in for plenty of question and answer time.
The themes and speakers for DSrupted 2015:
Data-driven Content: Martin Porter, Group Director of Posterscope, will talk about how real-time data from multiple sources dramatically alters the possibilities for digital out of home advertising networks – making it possible to tailor 1,000s of campaign messages to location, time, context and moment. Posterscope's Liveposter service has done groundbreaking campaigns recently for brands such as Microsoft and Pimm's.
Data Visualization: Mike Pell, a Designer and Envisioned with Microsoft, is coming from Seattle to talk about how live and real-time data can be organized and visualized to create stunning, high-impact content and creative for digital screens.
Internet of Things: Stephen Eyre runs the Internet of Things (IoT) ecosystem for TELUS, which is one of Canada's largest telecoms companies. He'll clear the fog on what IoT is all about, and what it means for signage. There's connective tissue there, as data-driven content and data viz don't really happen without IoT data.
Content Reimagined: Brad Parler is coming up from Houston to talk about the brilliant work he's done on corporate communications with Blinds.com, and outline the broader idea and techniques that can re-imagine normally bland business communications.
Future of Displays: Projection and object mapping? OLED? Quantum dots? E-paper? Laser projection? James Robinson, Senior Director, Research and Innovation, at Christie Digital Systems, will talk about where display technology is headed over the next 5-10 years.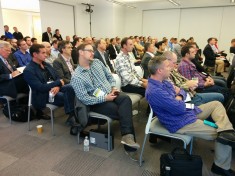 "It took time to pull this group together, but I particularly like the common threads between the sessions around IoT and data," says DSrupted founder and organizer Dave Haynes, a well-know digital signage industry consultant and blogger. "IoT only works in signage if you can make sense of the data and present it properly, and on the flip side, the content tools badly need new data to be rich and relevant."
The conference attracted more than 100 people in Sept. 2014, and generated universally positive reviews for the content, format and venue. DSrupted is back at the same venue – The TELUS Conference Centre in downtown Toronto.
"If you are in the digital signage business directly, or do creative or media planning and strategy work that touches digital display in retail or advertising, this will be an incredibly valuable, worthwhile day," says Haynes. "Companies like Liveposter are doing work that is highly disruptive, and this conference is a chance to learn how and why."
Like last year, an industry mixer for networking will be organized for the evening of Sept. 15th, ahead of the conference.
The event is hosted by TELUS and this year's sponsors are: Rise Vision, NEC Display Solutions, Pattison Onestop, Christie and Cineplex Display Solutions.
Tickets include lunch and access to all sessions through the day; They are $345, but attendees can save $50 by getting early-bird tickets before the end of this month.
Registration is online at www.dsrupted.com
About DSrupted 2015 (Vertical Media)
DSrupted is managed by Vertical Media Consulting Group Inc., the parent corporation of the tech writing firm pressDOOH, the digital signage blog Sixteen:Nine and the DSrupted 2015 tech conference. Dave Haynes is the owner of Vertical Media. The company is based in Burlington, Ontario, Canada.