Dream Cookbook Class Offered in March in New York on Writing a Cookbook Proposal, Finding an Agent, Food Photography, and Self-Publishing
Industry: Book Publishing
Four industry professionals will present a one-day seminar in New York for food writers, bloggers, and chefs on writing a cookbook, pitching to agents and publishers, food photography, self-publishing, and ebooks.
New York, NY (PRUnderground) November 15th, 2011
Four cookbook industry veterans will present a one-day seminar in New York for food writers, bloggers, and chefs on cookbook development on March 27, 2012. The all-day symposium includes sessions on developing a solid cookbook proposal, working with agents, styling food for photography, self-publishing options, and marketing a finished book. The sessions will be taught by Dianne Jacob, Denise Vivaldo, Jamie Tiampo, and Martha Hopkins in the studio of SeeFood Media. With four residential kitchen sets specifically configured for video production and still photography, SeeFood Media has hosted talent as diverse as Rachael Ray, Anne Burrell, LeeAnne Wong, and Josh Ozersky.
There's never been a better time to write a cookbook. More than 3,000 cookbooks were published in 2010, according to RR Bowker, a company that tracks publishing trends.
This is an increase of 2,643 from 2009. While overall book sales are dropping, cookbook sales are rising. Bowker predicts even higher sales of e-cookbooks in the coming year, signaling intense consumer interest in cooking and food.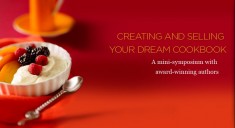 Cookbook readers clamor for titles with beautiful photographs, and many publishers are shifting the responsibility for the photography onto the author—especially bloggers who already have experience shooting for their posts. Award-winning food stylist Denise Vivaldo , author of six cookbooks and The Food Stylist's Handbook, and New York-based food photographer Jamie Tiampo, whose clients include Food Network, Sara Moulton, and the French Culinary Institute, will demonstrate tricks of the trade for shooting memorable food images and designing recipes for maximum visual impact, while keeping production costs down.
"A great collection of recipes and images is not enough to get published," explains Dianne Jacob, author of Will Write for Food. "Potential cookbook authors need to know how book publishing works. Agents and editors look for a killer book proposal that not only fleshes out the book's idea, but acts as a marketing and business plan." Jacob's session will focus on helping prospective authors work their ideas into a proposal that will attract an agent, sell a publisher, and, ultimately, entice a customer.
"At the end of the day, one key to successful publishing is tenacious marketing—and that's true whether an author is self-publishing or working with a traditional publisher," says Martha Hopkins, who has sold more than 300,000 copies of her self-published title, InterCourses: an aphrodisiac cookbook. She has worked on cookbooks with such publishers as Clarkson Potter and Andrews McMeel. Hopkins' session will focus on printing and distribution options, including printing abroad, print-on-demand (POD), electronic books, and marketing on a budget. "Effective marketing and PR does not require a ton of money. It does, however, require time."
The symposium costs only $250 and will give students a realistic timeline, budget, and expectations for publishing a cookbook. The course is scheduled for Tuesday, March 27, 2012, from 9 am to 6 pm at SeeFood Media Kitchen Studios in Manhattan. The Dream Cookbook class immediately precedes the annual conference of the International Association of Culinary Professionals (IACP) taking place in New York.
For more information on the seminar, visit The Culinary Entrepreneurship Program at http://www.culinaryentrepreneurship.com/workshops-master-classes/creating-and-selling-your-dream-cookbook/ or contact Mandy Unruh at 310.237.3366 or Mandy@MandysMeals.com.
###
About