Dough the Freshkid releases hot new video "Ferrari's & Boats"
Industry: Music
Up and coming hip hop artist Dough the Freshkid releases a hot new video "Ferrari's & Boats" which is a follow-up from his last video "Friends."
Los Angeles, CA (PRUnderground) March 19th, 2015
He's at it once again ladies and gentleman and fans of the hip hop culture. Yes, Dough the Freshkid repeatedly delivers excellent imagery in his latest video "Ferrari's & Boats."
The video shows how gorgeous Los Angeles is by capturing some of the things that makes it beautiful. The Palm Trees, beautiful blue skies, beaches of course with boats sailing by and lets not forget the smoking pearl white and black California Ferrari he's driving.
In addition, the music was also smooth. We enjoyed watching and looking at DTFK "Ferrari's & Boats" video. Some will consider the music retro due to an early 90's sound but the lyrics are considered futuristic or "ahead of his time."
The video ends with to be continued meaning it's more to come. In fact, there are two videos before this one which makes this part three.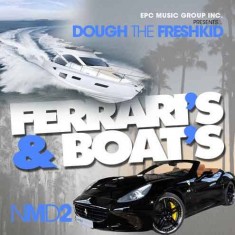 According to management at EPC Music Group, this is a short video film series with seven parts. This is their marketing approach before they release the official album.
About EPC Music Group