Dolphin Lifts Sunken Trampoline Hoist Brings Rebound Therapy to Disabled School Children
Industry: Medical
Dolphin have installed a socket mounted mobile pool lift at Lady Zia Wernher School in order to hoist their pupils onto a sunken trampoline for Rebound Therapy sessions.
United Kingdom (PRUnderground) February 16th, 2015
Across the UK more and more SEN schools are introducing rebound therapy as part of their daily activities and nowhere is this proving more beneficial than at the Lady Zia Wernher School in Luton.
As part of substantial building work in 2014, Dolphin Mobility installed a Handi-Move mobile pool lift over a sunken trampoline to ensure all children, regardless of their disability, would be able to access the equipment. Physical Education Coordinator Maxine Shearer explained: "The trampoline and associated rebound therapy plays a vital role within our curriculum at the Lady Zia Wernher School and we believe every child should be involved in as much therapy as possible throughout the day.  The moment the children arrive their therapy begins, from making their way to the classroom through to their seating position, each part of their daily routine is carefully planned to maximise the positive physical effects.  Every child is encouraged to take part in as much physical activity as their disability will allow and thanks to the hoist from Dolphin Mobility, rebound therapy on the trampoline is one activity that almost every child can now enjoy".
The staff at the Lady Zia Werner School have a 'no lifting' policy and strict moving and handling guidelines, therefore the hoist is incredibly important because without it some children such as Callum, who has Cerebral Palsy, would be unable to use the trampoline and reap the benefits of a rebound therapy session.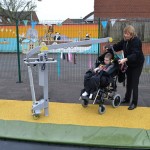 Maxine contacted Dolphin Mobility on the recommendation of Joel Paul and Angus MacWatt at Sunken Trampolines.  "From the initial demonstration through to delivery and installation I was very impressed with the level of service and training we received from Dolphin Mobility.  From a staff perspective, we find the hoist very user friendly and the children are all extremely relaxed when being hoisted. I would certainly recommend other SEN schools consider the same solution" explained Maxine.
Over recent years, Dolphin Mobility has noticed a significant rise in the number of enquiries for hoists which are suitable for use as part of a rebound therapy programme. Managing Director Craig Dunnage explained:  "There is no doubting the benefits of rebound therapy and whilst the staff at the Lady Zia Wernher School are lucky to have a sunken trampoline, there is still the need for a hoist to enable the children to be safely transferred on and off the surface.  The hoist we installed was a Handi-Move mobile pool lift which is very popular with leisure centres, fitness clubs and swimming pools.  As the trampoline is outside, Maxine and her colleagues needed a hoist which could be easily manoeuvred from inside the and stored away when not in use, both of which are very simple with this model.  Releasing the hoist from the socket in the ground is achieved through pressing a button on the control box, after which the casters ensure ease of manoeuvrability.  Whist this installation only features one socket, it is possible to have multiple sockets and once the hoist has been removed a blanking plug is placed over the stem to ensure a flush surface.
The Handi-Move mobile pool lift is made from stainless steel and has a superb range of movement, making it ideal for hoisting people from their wheelchair to ground level – as with a sunken trampoline – or into a pool where the water line is below the edge. The safe working load is 135 kg and the hoist rotates effortlessly through 360 degrees, ensuring the transfer from a wheelchair is very simple for the user and their carer. Safety features include emergency stop and emergency down switches.
The Lady Zia Wernher School is a Primary Community Special  school which caters for children between the ages of three and eleven, who have a wide range of special educational needs from within the Luton Borough.  All children attending the school have a cognitive delay; they also have additional needs which may include physical disabilities, autism, specialist medical requirements or a combination of these additional needs.
About Dolphin Mobility Ltd
Dolphin Mobility is part of the Dolphin Lifts Group, specialist in the supply of products for the disabled and the leading independent suppliers of stairlifts in the UK. Dolphin supply, install and maintain stairlifts, step lifts, hoists, wheelchair lifts and pool lifts.