Dolphin Lifts Bring New Pool Lift to the UK Market
Industry: Medical
The Panda Pool Lift is a portable lifting device which enables disabled people to enter swimming pools in a safe and dignified manner.
United Kingdom (PRUnderground) May 14th, 2015
Dolphin Lifts, one of the UK's leading suppliers of pool lifts, is delighted to be the sole UK distributor of the Panda Pool lift.
Manufactured in Italy the Panda Pool lift is one of the most advanced lifts available. Uniquely, it is driven to poolside under power from the electric motor. With a maximum lift capacity of 145kg and the ability to lower 900mm from the edge of the pool, most disabled swimmers should be able to use the lift and with 100 lifts per charge, daily recharging is not required.
There is an extensive range of safety features incorporated into the Panda Pool Lift; a manual emergency operating system ensures the lift can still be operated should the internal electrics be damaged, whilst a unique automatic braking system and infrared ground detector prevents the lift from approaching the edge of the pool too quickly.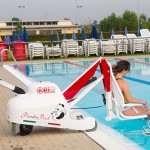 A two point safety belt is fitted as standard and a four or five point belt is also available on request. A ground fixing kit and handset control can also be supplied if required. "We pride ourselves on offering the latest advances in equipment designed to make swimming accessible for everyone, and the Panda Pool Lift is a fantastic addition to our portfolio of solutions," commented Managing Director Craig Dunnage.
About Dolphin Mobility Ltd
Dolphin Mobility is part of the Dolphin Lifts Group, specialist in the supply of products for the disabled and the leading independent suppliers of stairlifts in the UK. Dolphin supply, install and maintain stairlifts, step lifts, hoists, wheelchair lifts and pool lifts.