DJkit Celebrates the Arrival of KRK and Traktor Kontrol's Latest Hardware
Industry: Music
More Outstanding Controllers and Speakers Added to the DJkit Product Catalogue
Berkshire, United Kingdom (PRUnderground) September 22nd, 2015
The UK's leading supplier of elite quality DJ hardware has once again expanded its uniquely extensive range of ultra-premium products. DJkit is delighted to announce the imminent launch of two outstanding new products from KRK and Traktor Kontrol – two of the world's most revered and celebrated DJ hardware brands.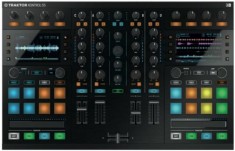 Fresh from the genius minds at Traktor Kontrol comes the long-awaited Traktor Kontrol S5 Stems-ready Pro 4-deck DJ Controller, while KRK looks set to delight the brand's army of fans with the new KRK Rokit RP4 G3 RP4 G3 Active Studio Monitor. Both products are available for pre-order right now, with DJkit having secured access to the very first shipments or each – order now while stocks last.
KRK Rokit RP4 G3
"KRK Studio Monitors have been the professional's choice of recording engineers and artists for mixing and mastering hit records around the globe, as they need to hear every nuance of the audio being reproduced. KRK ROKIT Generation 3 monitors continue in this design philosophy, so regardless of your musical style, genre, or particular mixing needs, KRK Rokits deliver." – KRK
The latest in a long line of truly epic speakers from this iconic brand, the KRK Rokit RP4 G3 is the perfect tool for professional recording, mixing, mastering and playback alike. World-class performance for a stupendously low price, the Rokit RP4 G3 will be available late September for a price of £109 each or £215 for a pair from DJkit.
Primary Features:
·        Brand new Bi-amped, class A/B amplifier offering large headroom and low distortion
·        New Proprietary waveguide optimised for superior imaging
·        New 1" Soft-Dome tweeter provides pristine clarity and extended response up to 35kHz,
·        New High-frequency adjustment tailors the system to personal taste
·        Lightweight, glass-Aramid composite woofer delivers clear midrange and tight bass
·        New Low-frequency adjustment tailors the monitors to taste and adjusts for room acoustics
·        New Front Firing Port — Low-frequency extension while reducing boundary coupling
·        New Radiused edges reduce distortion from diffraction
·        New Low-resonance enclosure for minimised distortion and colourisation
·        New Multiple audio input connectors (XLR, 1Ž4", RCA) for universal connectivity in any studio environment
Traktor Kontrol S5
"Traktor Kontrol S5 is the 4-deck all-in-one DJ controller built to feel familiar right from the start. Time-tested features fuse with innovative high-res displays and touch-sensitive controls to channel your creativity. And with essential Stems control, experience modern DJing in a compact, rock-solid system." – Native Instruments
Unsurprisingly, the new S5 from Native Instruments is an absolute beast of a controller and serves up absolutely everything any DJ could ever need to put on the performances of their lives. Outstandingly intuitive, brilliantly durable and packed with both familiar and brand new features alike, it's an absolute steal at £569 and will land at DJkit during October.
Primary Features:
·        Portable, 4-deck TRAKTOR controller with core control over Stems and Remix Decks
·        2 bright, full-color displays reveal key software views and pop-up panels
·        Touch-sensitive knobs and buttons for intuitive control over TRAKTOR software
·        Touch strips provide tactile control over track position, pitch bend, and more
·        Quickly access track BPM and Key as well as Filter, and FX
·        2 customizable FX units with over 30 studio quality effects plus Macro FX
·        16 color-coded pads for triggering samples, cue points, and slices
·        Easy-access Remix Mode for quick, intuitive Remix Deck control
·        Built-in, club-ready audio interface with pristine 24-bit/48kHz clarity
·        AUX input with mic preamp + separate line input for connecting microphones or external gear
About DJKit
DJkit is the UK's leading DJ retailer, offering an unrivalled range of over 25,000 products and packages for professional musicians and amateurs alike. The team prides itself at being right at the forefront of the industry, stocking only the most cutting-edge technology, offering the highest-level of service and hosting regular events in conjunction with industry elite.