Desolenator, Solar-Powered Water Desalination System, Takes First Place in Startup Open
Industry: Entrepreneurs
Founder wins trip to Global Entrepreneurship Congress 2016 in Medellín, Colombia
Washington, D.C. (PRUnderground) December 22nd, 2015
Desolenator, a London-based company that uses solar power to make drinking water clean and safe, defeated nearly 800 startups from 89 countries to win the 2015 Startup Open competition. Through the Startup Open competition, the Global Entrepreneurship Network (GEN) recognizes the top promising young firms that have a startup moment within the past year.
The Startup Open champion aims to provide a low-cost solution to the safe drinking water shortage worldwide. The Desolenator purifies water from any source – including seawater – removing contaminants by boiling the water using both the heat and electrical energy created by solar power, then capturing the vapor and creating condensed, distilled water.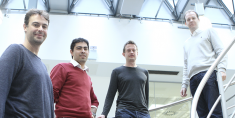 "Entrepreneurship is critical not only to job creation and economic growth, but to solving some of the world's most pressing issues as well," said GEN President Jonathan Ortmans. "Desolenator is an outstanding example of a young firm with amazing potential to make a real impact on society."
The idea sprouted from Desolenator founder and CEO William Janssen, who has been living in Abu Dhabi for the past five years where almost all drinking water comes from seawater desalination plants that use a large amount of energy. The company has been featured in a variety of major news outlets including BBC radio, HuffPost Tech, Reuters and CNBC.
As the first place winner of the Startup Open competition, one person from the startup's founder team will receive free airfare and accommodations to the Global Entrepreneurship Congress in Medellín, Colombia, in March 2016.
While the Desolenator removes salt from water, the competition runner-up, Sustainable Alternative Lighting (SALt), uses salt impurities that make drinking water harmful to create alternative lighting and LED lamps. These lamps also allow people to charge cellphones in the event of an emergency.
The Philippines-based startup was voted the People's Choice Award winner during the 2014 Startup Nations Summit in Korea. The venture's founders also took the stage with U.S. President Barack Obama and Alibaba Group founder Jack Ma during Global Entrepreneurship Week (GEW) at the Asian-Pacific Economic Conference meeting in Manila.
Other finalists inlucded the Disease Diagnostic Group (USA); Hop!App (India), which is a parent-teacher communication application; Novalact (Chile) a probiotic that fights lactose intolerance; and PriceLizer (Sweden), an e-commerce shopping cart.
GEN announced the "GEW 50" – the top 50 participants – of the Startup Open during Global Entrepreneurship Week (GEW). Now in its sixth year, entrepreneurs who had a "startup moment" between GEW 2014 and GEW 2015 (Nov. 17, 2014 to Nov. 16, 2015) were eligible to compete in the Startup Open. A startup moment is anything that can be interpreted as the company is "open for business," such as the business becoming incorporated, completing a first sale or securing outside funding. A panel of judges selected the winners based on concept, growth projections and knowledge of their industry.
About Global Entrepreneurship Network
Global Entrepreneurship Network (GEN) is a year-round platform of programs and initiatives created by the communities that celebrate Global Entrepreneurship Week each November. Aimed at creating one global entrepreneurial ecosystem, GEN helps people in 150 countries unleash their ideas and turn them into promising new ventures—creating jobs, unearthing innovations for society and strengthening economic stability around the world. For details on the programs and initiatives that make up GEN, visit weareGEN.co and follow @unleashingideas on Twitter.