DBM Solar Announces Solar Design Permitting Operations Out Of Utah
Industry: ECO-Friendly
With more than 20 years of combined experience, Utah's DBM Solar Design & Consulting announces operations out of northern Utah.
Ogden, Utah (PRUnderground) April 30th, 2015
Headquartered in the Rocky Mountains of northern Utah lies the office of DBM Solar Design and Consulting ("DBM Solar"). With more than two decades of combined photovoltaic and solar thermal experience, the company is already causing a lot of buzz throughout the solar system design industry. With fresh faces and fresh perspectives focused on quality electrical diagrams and SketchUps to commercial permitting, feasibility studies, and shade analysis, DBM Solar is on a mission to revive the solar industry from "the same ol'."
Co-Founder of DBM Solar, Chase Daily, comments. "We're proud to announce our system design and commercial solar permit services. Our solar design company offers a modern take for our modern industry." He continues. "It is time for alternative solutions to power reliance to take center stage and DBM Solar is ready to take on that challenge."
DBM Solar offers a variety of solar-related services.
solar system design
CAD services
sales proposals
feasibility studies
electrical diagrams
system engineering
3D renderings
residential solar permit sets
commercial bidding assistance
shade analyses, and more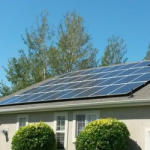 Dustin Baker of DBM Solar is excited to maximize the most of the company's relationships with key players and industry makers within the solar energy market. He remarks. "DBM Solar offers a high standard of design and proposal services, as well as feasibility studies and full engineering services".
DBM Solar also offers other services for the solar market including, site surveys, bidding assistance, equipment planning, training, DAS design and manuals as well as general consultation. In addition to fully insured work, flawless service is what has fast-tracked DBM Solar to the front of their industry.
To allow their expertise and experience to bring out the full potential of solar energy projects, DBM Solar can be reached online at www.dbmsolar.com or by calling 801-690-6517.
About DBM Solar Design and Consulting
DBM Solar design and consulting offers residential and commercial electrical diagrams, engineering services, feasibility studies, and permitting. For those that are ready for quality PV system design and solar proposal services then contact DBM Solar today.