DBM Solar Announces Feature In Solar Engineering Services Publication, Solar Pro Magazine
Industry: ECO-Friendly
Solar engineering company, DBM Solar, has an upcoming feature within in prestigious industry publication, SolarPro Magazine.
Salt Lake City, Utah (PRUnderground) June 23rd, 2015
DBM Solar is a photovoltaic and solar thermal installation and solar system design company whose team has installed hundreds of solar systems across the western US. As industry leaders and experts with experience in solar power totaling over 20 years, DBM Solar is proud to announce their upcoming feature in SolarPro Magazine.
Launched in 1987, SolarPro Magazine is a solar engineering services technical trade publication in circulation for nearly three decades that is distributed to more than 20,000 professionals working in the North American solar energy market. Their mission is to speed the deployment of solar generation in North America through industry-leading coverage of utility, commercial and residential system design and installation best practices.
Chase Daily, Co-Founder of DBM Solar, comments. "SolarPro is such a respected publication in our industry. It's an honor to be visible within their circulation." He continues. "We look forward to continuing to increase our visibility and bring our professionalism to an ever-growing number of customers within our vertical."
Some key points covered in the upcoming SolarPro Magazine feature:
Distributed grid-interactive solar +Â storage microgrids – explores active markets for grid-interactive microgrids, the capabilities and benefits of these systems and various design approaches.
Industry perspectives on solar + storage applications – details emerging technologies, business models and grid integration challenges for solar + storage installations.
Module-level power electronics (MLPE) – integrators weigh in on equipment, market variables and code requirements that impact the sale and deployment of MLPE systems.Â
Residential PV system financing – talks about how companies can optimize financing solutions to meet the needs of an ever-changing residential market.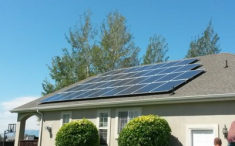 DBM Solar offers custom turn-key solar design sets of the highest standards with a focus on financial and production modeling, shading analyses, 3D presentation models, feasibility and consulting services, and DAS design.
DBM Solar's solar feasibility consultants explain the benefits of solar energy and offer solutions to energy needs. They look at how much electricity is used and design a custom system for a site and offer best-in-the-industry warranties. To find out more about DBM Solar's services visit www.dbmsolar.com or call 801-690-6517.
About DBM Solar Design and Consulting
DBM Solar design and consulting offers residential and commercial electrical diagrams, engineering services, feasibility studies, and permitting. For those that are ready for quality PV system design and solar proposal services then contact DBM Solar today.