DAWGS Kicks off 2015 with The Dearborn Realtist Board
Industry: Real Estate
Door And Window Guard Systems Inc. (D.A.W.G.S), kicked off 2015 by sponsoring and participating in The Dearborn Realtist Board - 2015 New Year Networking event.
Chicago, IL (PRUnderground) January 29th, 2015
Door And Window Guard Systems Inc. (DAWGS), a provider of steel window and door guards developed for vacant property security, kicked off 2015 by sponsoring and participating in The Dearborn Realtist Board – 2015 New Year Networking event.
The event kicked off what is sure to be an exciting year in Chicago real estate.  Other key supporters and participants in the event included the City of Chicago, The Cook County Land Bank Authority (cclba), the Department of Housing and Urban Development and Citibank.
During the well attended networking event, real estate brokers, developers, rehabbers, investors, housing agencies, title agencies and homebuyers were given the opportunity to learn about new real estate initiates and plans for the upcoming year.  The supporting sponsors also presented resources that are available from the City of Chicago and other committed partners, like DAWGS, to help the attendees meet their 2015 business goals and objectives.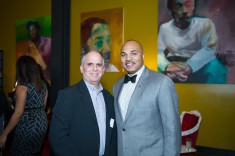 The Dearborn Realtist Board (www.chicagorealtist.com) has a rich history.  The organization was formed in Chicago, in 1941 by African American Real estate professionals out of a need to secure the right to equal housing opportunities, regardless of race, creed, or color. For more than 72 years, DREB has participated in meaningful legal challenges and has supported legislative initiatives that ensures the availability of fair and affordable housing for all.
"The partnership DAWGS has formed with The Dearborn Realtist Board is an important one.  Both organizations have demonstrated their commitment to ensuring equal housing opportunities are afforded to all Americans." states Steve Werner representative at the event and Director of Business Development at DAWGS (www.dawgsinc.com).  Steve adds, "Both of our organizations have our roots in Chicago, we each have a vested interest in maintaining and improving the value of Chicago's diverse and cultured neighborhoods."
About DAWGS
Since 2009, the engineers and real estate pros at DAWGS have been revolutionizing the building security industry one door and window at a time. As a leader in vacant property security, their impenetrable, proprietary door and window guards are uniquely designed to prevent theft, vandalism, and uninvited occupation. Furthermore, DAWGS operates as a service, so all installation, removal, and maintenance is handled by a certified local installation crew. DAWGS works with a number of large customers including the City of Chicago, Freddie Mac, Fannie Mae, Wells Fargo, CitiMortgage, and more. For more information about DAWGS, please visit their website at www.dawgsinc.com, or call Steve Werner at 877-88-DAWGS(32947)
About Door and Window Guard Systems
DAWGS (Door And Window Guard Systems) is a full service vacant property security company. Our flexible, fast-response teams install and remove DAWGS equipment to ensure that your property is always secure. DAWGS currently has operations in Illinois, Indiana, Michigan, Ohio, New York, New Jersey, Pennsylvania, Delaware, Maryland, Washington, D.C. and will be expanding into other new markets soon.