Datalicious to Provide a Path to Destroying Customer Data Silos with OptimaHub at Forrester Forum
Industry: Marketing
As part of Forrester's Forum for Marketing Leaders, Datalicious will present to marketers on destroying customer data silos through customer analytics and OptimaHub.
San Diego, California (PRUnderground) April 13th, 2015
Datalicious, the industry-leading data and analytics agency has today announced that Mat Hauck, VP Worldwide Sales, will present to marketers on targeting to convert and retain, justifying digital spend and destroying customer data silos at Forrester's Forum for Marketing Leaders.
The OptimaHub is an advanced customer analytics platform that removes data silos, returns data ownership to the marketer and delivers media optimisation insights and predictive customer analytics to maximize customer retention through its MediaAttribution and SingleView applications.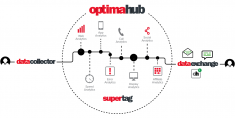 Hauck joined Datalicious in 2014 to drive the agency's global expansion and product growth, continuing a tradition of client-based product innovation built on a foundation of the agency's analytics consulting experience.
Datalicious Managing Director, Christian Bartens, said Forrester's Forum for Marketing Leaders was a great opportunity to solidify the company's growth in the American market. "We were able to successfully launch our brand and products in 2014 in the US and we're constantly hearing from marketers that customer data silos are impacting customer service levels and affecting revenue opportunities. So we've matured a product that deals directly with these challenges."
Hauck added that traditional business intelligence organisations and vendors have recognized where the marketing dollars are going but are making the mistake of buying their way into the marketing technology space, patching together solutions from various technology vendors and taking it to market as a "solution".
He continues, "Datalicious differs in that we built the OptimaHub from the service needs of our clients. I'm unaware of another technology platform like OptimaHub that allows data collection, analysis, modelling and actioning that can be enabled in a single platform."
"There's no data silos, data ownership remains with the marketer and no disparate technologies. Just a unified customer and media analytics offering."
Mat Hauck will present Destroying Data Silos Through Advanced Customer Analytics and OptimaHub at 10:40am, April 15, in the Theater.
ABOUT FORRESTER'S FORUM FOR MARKETING LEADERS
Forrester's Forum For Marketing Leaders will deliver a unique strategic vision, pairing Forrester's deep understanding of the changing habits of digitally empowered customers with powerful and actionable tools to master increasingly complex marketing ecosystems. The event will take place at the Hilton Midtown, NYC, on April 14 and 15.
About Datalicious Pty Ltd
Datalicious is a full service, worldwide, data agency providing client focused solutions designed to scale with your organization. From humble beginnings as a data consulting agency in Australia, Datalicious has expanded through their growing services division and product development teams. They help clients around the globe achieve best practice data driven marketing through best of breed technology and data driven thinking. Datalicious products include SuperTag, DataCollector, DataExchange and the OptimaHub advanced customer analytics platform.
For more information visit www.datalicious.com. Datalicious can be contacted via insights@datalicious.com.