Data Reveals McDonald's Fast Food is Healthier than Gourmet Food Truck
Industry: Food and Drink, Health and Nutrition
A mobile food truck operator claims his gourmet food is healthier than fast food at McDonald's. Stitches 'n Dishes put this claim to the test, and the results were astounding.
San Francisco, CA (PRUnderground) March 9th, 2012
On February 15, 2012, the day after California State Assemblyman Bill Monning (D) submitted a new proposed bill, AB1678, banning food trucks from vending within 1500 feet of the perimeter of all California K-12 schools, the owner/operator of a popular Northern California food truck stated in an interview with ABC Channel 7 News that the food served at his food truck is healthier than food served at McDonald's.
In California, fast food restaurants are required to display nutritional information about their menu items, and restaurants are required to disclose nutritional information for healthier choice items on their menus. In their own class, food trucks and food stands are neither fast food nor restaurant – these requirements do not exist.
Kevin Ryan, Executive Director of the International Corporate Chefs Association recently presented his Top Food Truck Menu Trends in 2012, and at the top of the list was the rising demand for more healthful foods.
Many Americans believe that if food is "gourmet," it's healthy. Paula Deen, America's gourmet comfort food queen, recently gave America a reality check with her announcement that she's joined the ranks of millions of Americans with diet-induced diabetes.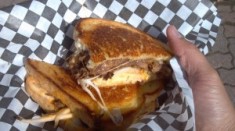 "A lot of the food truck operators in my area aren't classically trained in the culinary arts, have little or no experience, and they cut corners," said Chris Jarosz, Chef / Owner of the Wicked 'Wich food truck in Northern California. "They use low grade meats, produce, store-bought processed bread, frozen and canned ingredients, and imitation butter, but tell their customers otherwise. It's bad for business and bad for the industry."
Paula Deen's son, Bobby Deen recently undertook a new series, "Not My Mama's Meals" on Food Network's Cooking Channel, where he transforms his Mama Deen's comfort food into lighter, leaner, healthier meals that still deliver on taste.
Jarosz believes that higher standards for food trucks should be implemented, as well. "Because there aren't any standards for food trucks, operators sometimes exaggerate or manipulate the facts. I think that food trucks should be held to the same standards as restaurants, and be held accountable for the claims they make. They should be held liable for truth in advertising the same way any other business is," said Jarosz.
Stitches 'n Dishes (http://www.stitchesndishes.com), a full service social media, marketing & public relations company specializing in the mobile foods industry, researched the food truck owner/operator's claim, comparing an item from the food truck menu to an item from the McDonald's menu to validate his statement, and published the results in an article.
"We feel that any business should make every effort to represent itself accurately and truthfully to the media and in its advertising," said Christopher Ford, Co-Founder at Stitches 'n Dishes. "There is a growing trend toward healthful menu options at food trucks; the proposed Assembly Bill in California is just one more factor that validates this trend. In our comparison, we sought to validate the claim made by a food truck operator, and the results really do speak for themselves."
The article, authored by Ford sparked a new "Wellness Wednesday" series on the popular Stitches 'n Dishes blog site.
About