Daily Draft Star Announces Launch, Offers Innovative Lineup Format
Industry: Games
New daily fantasy sports platform offers a crowd-pleasing format that results in better odds for players.
Farmington, New York (PRUnderground) March 21st, 2015
Daily Draft Star has announced the official launch of its innovative platform that eliminates the challenges that many fantasy sports players face. Instead of spending and potentially wasting money on a single player who is injured during a game or doesn't perform up-to-par, Daily Draft Star has created a system that gives players far better odds.
Joshua Rayburn, founder of Daily Draft Star, recognized this issue through his own frustrations with daily fantasy sports. "I found myself consistently throwing away money every night on players being injured or under-performing. Out of the need for a website that accounted for these issues, Daily Draft Star was born," says Rayburn.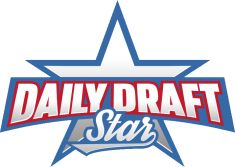 Rayburn decided to use a new lineup format that would address these issues faced by fantasy sports users. With Daily Draft Star's format, each position has two slots. Instead of putting money towards one player, users put their money towards two players. Then, the higher scoring player of the two counts towards the users' totals. "If one player has a bad game, the other can make up for it. This allows users to cash more often due to less risk of ruined lineups," said Rayburn.
To get started at Daily Draft Star, users simply register, find the matchups they want to play, choose ten players for their lineups, and watch their teams. Entry fees range from free to $50+ and include 50/50, head to head, guaranteed prize pool, and winner take all contests. Points are earned based on a number of game statistics, including goals, assists, rebounds, touchdowns, and more. When live games begin, users can also watch their Daily Draft Star standings live. The new lineup system aims to offer a more engaging, fair platform than other daily fantasy sports sites. More information can be found at https://dailydraftstar.com.
About Daily Draft Star
Daily Draft Star was founded in 2015 by avid DFS player Joshua Rayburn. The platform solves the issue behind the frustration of many players who find themselves spending money on players who are injured or do not perform well.