Customers-on-the-Go Can Shop More Easily for Jewelry at GoldenMine's New Mobile Site
Industry: Jewelry
With a bulk of traffic coming from handheld devices, GoldenMine.com now offers a mobile version of its online jewelry store for its customers on the go.
Los Angeles, CA (PRUnderground) July 23rd, 2015
GoldenMine.com, a leading gold jewelry e-tailer, recently launched its own mobile site to offer a more comfortable way for customers to view and buy jewelry on smaller screens from its online retail store. Compared to browsing its full website on mobile devices, they can now browse and purchase jewelry on a simpler and faster site that fits smart phones and small tablets.
Based on customer traffic, GoldenMine decided to build a mobile site from the ground up. Data showed a 50% increase of mobile visits from last year, and over 40% of current total traffic came from smartphones and tablets.  Hence, GoldenMine created a separate website with mobile-friendly pages and checkout process. Visitors will be redirected to the mobile version when they visit GoldenMine.com on handheld devices.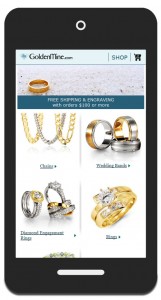 The mobile site has a more simplified design than the full site so that mobile shoppers can better find the jewelry, shopping cart, and account information. Taking user readability into account, GoldenMine mainly included information from the body sections without the sidebar and top navigation buttons of the full version into the mobile site. For example, the mobile category pages display the categories with corresponding images in an easy-to-read block format. This design minimizes scrolling, pinching, and zooming in and out to see content. This site's checkout page was also modified to fit smaller screens as well. As a result of streamlining the web pages, the mobile version loads faster than the full site. GoldenMine designed the new mobile site in a straightforward format to improve functionality for online shoppers using smartphones or tablets.
Even though GoldenMine has two separate websites to fit different screens, the mobile site design maintains a similar look and feel as the full version.  The new site has the same category pictures and similar fonts and colors as the full site in order to help customers transition to shopping for its merchandise on smartphones and tablets.  However, if visitors want to view the full version on those devices, they can do so by clicking on the "Full Site" button at the bottom of each page. GoldenMine aimed to create a seamless shopping experience by having the mobile site parallel the full site as much as possible.
"We have made mobile jewelry shopping much easier with the launch of our mobile website for our customers," said David Lee, CEO and co-founder of GoldenMine. "We are committed to meeting their needs and will continue to improve our website so that it is faster, more flexible and functional."
With a new mobile site, GoldenMine wants their customers on the go to be able to take advantage of the great prices and order jewelry as easily as buying from home.  The new mobile site has easy-to-read pages, including checkout, with information in a block format.  As an online jeweler, GoldenMine built a reputation for having high-quality gold chain, wedding band, earring, and other fine jewelry selections and now is excited to offer an optimized shopping site for its mobile customers.
###
About the Company:
Established since 2000, GoldenMine, Inc. is an online jeweler offering a large selection of fine quality jewelry for men and women from around the world at competitive prices.  The company developed strong manufacturer relationships and trained staff in order to bring outstanding value, service, convenience, and selection.  Based in Los Angeles, CA, GoldenMine can be found online at www.goldenmine.com. Phone: 1-888-223-7056, Monday – Friday from 10am to 4pm PT.
About GoldenMine, Inc.