Custom Jewelry Builder, Amoro, Announces New Heart Pendant, As Two Hearts Are More Romantic Than One
Industry: Jewelry
Heart pendants have been a Valentine's favorite forever but the traditional cute heart style is not for everyone. Amoro releases a new two-in-one heart pendant solution
Grand Bahama, Bahamas (PRUnderground) January 29th, 2015
Amoro fine jewelry claims to have solved the problem by introducing an exclusive 18kt gold collection featuring two intertwined hearts – a doubly romantic yet non traditional look and a great Valentines gift idea. The intertwined heart jewelry collection is aptly called Forever Together and is made up of complimenting rings, earrings, pendants and bracelets that feature one white gold and one pink gold intertwined hearts, some designs are accented with diamonds some are all 18kt gold.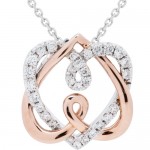 Amoro.com is a romantic jewelry specialist ("Amoro" is a combination of the Italian for Love and Gold) and its exclusive jewelry features hearts motifs – some are bold and obvious but many are subtle and can only be enjoyed by the wearer. Whether Amoro hearts are seen by all or are personal pleasures they certainly increase the wearer's romantic appreciation of their precious jewelry.
On the bold side Amoro offers over 50 styles of hand crafted, Italian sterling silver charms, bracelets and pendants priced under $50.00. Each romantically presented in a rich red gift box.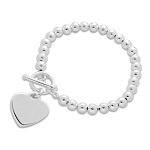 For more exclusive Valentine's jewelry gifts Amoro exclusively offers a limited collection of Pristine Heart diamond jewelry that features the world's most romantic diamond, a patented round cut brilliant diamond with 17 extra facets which display to the wearer a heart shape in the very center of the gem.
Pristine Heart diamonds command prices slightly higher than comparable, conventional, round brilliant diamonds but their rarity and beauty is perfect for Valentines seeking a unique and precious gift. Each diamond is unique and independently certified.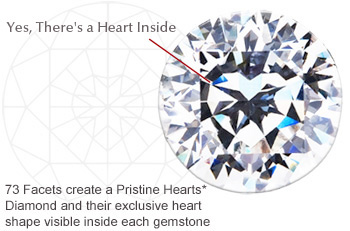 Whether classic and bold or subtle and exclusive Amoro.com's jewelry offers Valentines more romantic styles than any other fine jeweler all 100% Guaranteed, tax free and shipped free in luxury gift packaging in the US.
About Amoro Jewelry
Amoro.com the romantic jewelry specialist offers custom jewelry – eternity bands, engagement rings, wedding rings, diamond earrings, bracelets and more at significant savings over other luxury brands . Founded in the Caribbean by duty free jewelry visionary Stephen Crane, Amoro.com derives its name from a combination of the Latin words for Love and Gold representing the world\\'s most romantic duty free jewelry. Amoro.com provides fabulously affordable, customizable, fine jewelry in pink, yellow and white gold at duty free prices for discerning jewelry lovers.