CSE Sends Chills of Real NHL® Action in Ice Breaker Board Game
Industry: Games
The official National Hockey League licensed game is now available throughout the U.S. and Canada.
Burlington, ON (PRUnderground) December 10th, 2014
Home Ice Advantage! CSE Games today announced that families and fans can now bring all of the excitement of real NHL hockey into their own homes in the U.S. and Canada with its breakthrough, breakout NHL® Ice Breaker card game. The official National Hockey League licensed card game is now available throughout the U.S. and Canada.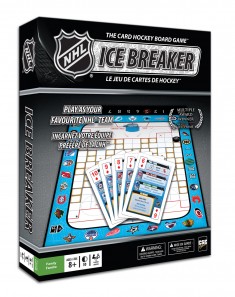 NHL® Ice Breaker: The Card Hockey Board Game™ (MSRP $24.99, for 1-4 players ages 8+) features all 30 National Hockey League teams and offers all of the fast-paced, slap shot, quick reaction play through a remarkably easy to learn game with  familiar card game mechanics.
Fabio Del Rio, president of CSE Games, an Ontario, Canada-based game company, explained, "We call it a board 'game' checking version of competitive action hockey. We've been able to package the fun of NHL hockey with classic board game strategy."
The fun and challenge of NHL Ice Breaker is derived from the specially-designed 54-card playing deck. Each card allows players to make the pass, take the shot, make the save, or deliver the big hit, simulating all the intensity of the game of hockey. Each time through the deck equals one period of play. Three times through the deck is an official NHL Ice Breaker complete game.
With NHL Ice Breaker, CSE was diligent in providing some fundamental skill sharpening. By playing Ice Breaker, players practice counting and language, while stimulating visual perception and decision-making. The game supports quick mental processing and cognitive skills in a fun competitive hockey atmosphere.
Ice Breaker is readily available in Canada on Walmart.ca and Amazon.ca and in the U.S. on Amazon and Shop.NHL.com
Evidence of praise for the game is provided in reviews, such as:
"If you enjoy hockey, this game is something you NEED to buy." – Sam Healey (TheDiceTower.com)
"This is a definite gem for hockey fans, well worth playing anytime." – Calvin Daniels (sports journalist)
"NHL Ice Breaker is the best table-top hockey game I've ever played. It's the first that captures the feel and flow of ice hockey." – Ken Whitesell (Origins Game Fair)
​Ice Breaker joins CSE Games' other breakout hit, the mutli-award winning abstract strategy game, Quartex™. Recently, Quartex merged into mainstream appeal appealing to hobby gamers as well as traditional family games.  Quartex (MSRP $24.99 for 2-5 players ages 8+) is a board game and puzzle in one. By placing tiles by matching and aligning them beside other tiles already in play, players try to complete a four-corner shape in order to earn a point token of that color. However, the twist is, as the number of tokens collected increases, their value decreases. Players can decide if it possible that less is more. Because players decide where tiles are placed, the shape of every game of Quartex is completely unique. The fun play of Quartex has added benefits of skill development too. Playing Quartex involves counting and math, logical and critical decision making, pattern/color matching, visual-spatial skills, and hand/resource management.
About CSE Games, Inc.: CSE Games is a developer and publisher of award-winning sports and entertainment products. From board games, card games, sports and collectible products, CSE has a mission to offer something special to all customers. The company's original games present players with entertaining challenges and promote family fun, cognitive skill development, and strategic thinking. Among its most popular titles are the multi-award winning games, Quartex and Ice Breaker. CSE Games is an official licensee of the National Hockey League and the Collegiate Licensing Company. All CSE products are safety tested and conform to the standards of ASTM F963. For more information about CSE Games, visit the company website and interact directly with the company on Facebook, Twitter and Pinterest.
For sales and additional product information contact: info@csegames.com; T: 866-441-4CSE (4273); 4305 Fairview Street, Burlington, ON, Canada, L7L 6E8
©NHL 2014. All Rights Reserved. NHL and the NHL Shield are registered trademarks of the National Hockey League. All NHL logos and marks and NHL team logos and marks depicted herein are the property of the NHL and the respective teams and may not be reproduced without the prior written consent of NHL Enterprises L.P.
About Walsh Public Relations
a full service public relations agency