Commonwealth Computer Recycling's Serdar Bankaci named a Smart 50 business executive nominee
Industry: Technology
Commonwealth Computer Recycling, an e-waste recycling and data destruction service provider, was recently named a Smart 50 business by Smart Business Magazine.
Pittsburgh, Pennsylvania (PRUnderground) October 20th, 2015
Commonwealth Computer Recycling, a leading IT asset disposal and data destruction service provider in the mid-Atlantic region with locations outside Pittsburgh and Philadelphia, was recently named a Smart 50 business by Smart Business Magazine.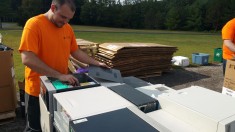 This award, given annually, recognizes local area businesses who demonstrate innovative and sustainable approaches to business. Competing in the small business category, Commonwealth's unique approach to sales and giving back to local communities caught the judges' eyes. "This award really solidifies our belief at Commonwealth that you can build a business centered around helping the environment and the local community," said Serdar Bankaci, Founder and CEO.
As available landfill space shrinks, redirecting waste volume is an increasing concern. Recycling IT assets through Commonwealth Computer Recycling ensures "not a single pound goes to landfills," commented Bankaci. IT equipment is the number one source of toxins at area landfills and by recycling these items equipment owners ensure their contents don't leak into groundwater, preserving the environment.
Beyond landfills, data destruction, which includes hard drive and paper shredding, ensures any electronic or physical data is disposed of in a secure, environmentally friendly manner. "Some companies and schools are aware of the liability associated with misplacing their customers' or students' personal data, but unfortunately many are not," says Bankaci. In 2015, the State of Delaware implemented a new law which requires commercial entities doing business in Delaware to responsibly destroy their employees' and customers' "personal identification information." Hard drive shredding ensures that anyone who steals the items will be unable to extract this information, which could include credit card numbers, electronics signatures, or social security numbers.
About Commonwealth Computer Recycling LLC
Founded in 2011 and based in Pennsylvania, Commonwealth Computer Recycling is an IT asset disposal (ITAD) and data destruction service provider. With two locations strategically located near Pittsburgh and Philadelphia, PA, Commonwealth services the entire mid-Atlantic region. Commonwealth is R2 and NAID certified, ensuring clients their IT assets and data are recycled and disposed of in an environmentally responsible and secured manner. Please visit www.ccrcyber.com to learn more.