Commercialisation of Moringa Oleifera: State of Knowledge, Opportunities & Challenges
Industry: Health and Nutrition
Just explore the subject in unprecedented breadth and depth, 3rd Global Moringa Meet focuses on the entire Moringa production from Ground zero to scale on Nov 21-22, 2015
Jaipur,India (PRUnderground) October 12th, 2015
Moringa is ancient most nutritious botanicals on the earth. The developed countries are starting to pay more attention to Moringa these days. Some are touting this tropical tree as the newest and greatest superfood. And all the excitement is understandable: Moringa leaves and seed pods are packed with protein and vitamins. Its nutritional value rivals that of milk, yogurt and eggs. In additions to its abundance of nutrition and phytocompounds, it has been widely studied by over 990 peer-viewed scientific articles for its health and wellness benefits. But very little information is available on its sustainable Farming
Moringa is a plant with many uses and excellent potential for cultivation in many parts of the world, particularly in areas which are unsuitable for commercial production of more traditional crops. For any new plantation project, it is worth checking Moringa cultivation in the region as it is grown in some capacity in most tropical countries. India is the most advanced supplier of Moringa, but African and American countries are developing their production. There has also been extensive research on Moringa cultivation in India. Given its significant health and nutritional benefits, Moringa has the potential not only for as a health food supplement but also as a nutritional supplement in the fight against malnutrition. In order to enter Western Hemisphere health food markets, it is important for any Moringa products to pass food regulations and quality control for Western markets
Growing Moringa was relatively easy, and perhaps this was the reason why cultivation techniques have not been investigated and improved much by research institutions other than Indian research and develop institutes. The India based Advanced Biofuel Center (ABC) included Moringa Oleifera in its research portfolio on the basis of certain solid credentials: as healthy and safe food source and higher recovery and quality of oil than other crops, no direct competition with food crops as it is a edible source of fuel, and no direct competition with existing farmland as can be grown for both purpose same, in year 2009. ABC scientists are continuously working on enhanced genetics, agronomics and horticulture sciences to drive new varieties, more knowledge around the plant's nutritional requirements and more science-based processes for the care and custody of the plant and have achieved reliable and scalable results in Moringa farming.
ABC's ongoing agronomic support is one of the key factors for long-term success. Driven by a philosophy of knowledge sharing and learning by doing, we are able to achieve significant results in this very technical field, while remaining highly resourceful. Our team of Moringa experts are constantly researching and developing new and efficient solutions for the crop across the globe, to design and install the most suitable General Agricultural Practices (GAP) for each and every part of the world.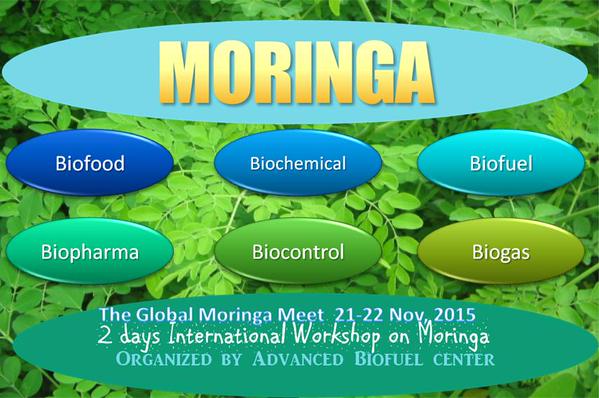 Just explore the subject in unprecedented breadth and depth, ABC's 3rd  Global Moringa Meet focuses on the entire Moringa production from Ground zero to scale from November 21 & 22, 2015, Jaipur, India. Join us at this unique knowledge platform to share the latest information on: An Update from the Moringa Industry Advances in Moringa Research & development Production Systems   Commercial track of Moringa — Leading the Way to New heights Harvesting and Extraction Frontiers of Moringa Biotechnology and so on. This shall address biofuels-related topic within four thematic areas: environment and human well-being, economics, technology, and geography
While talking on 3rd Global Moringa Meet, Mr. Dp Maharshi President Moringa India said, 'We are now able to synthesise the knowledge researched and gathered after years of working, trials and experiments on Moringa, and to identify the main issues that need to be addressed in this 3rd International Workshop on Moringa. The 3rd Global Moringa Meet 2015 will present the real Moringa farming manifesto"
1. Producing SUSTAINABLE Moringa:
The Scientists at ABC have mastered a perfect and viable Moringa oleifera cultivation technology with regards to agronomic requirements and tree management techniques such as pruning, tipping and ratooning etc. Efficient Moringa farming systems and success depends upon Breeding and propagation techniques developed and adopted
The Domestication of Moringa oleifera has already been taken palace in India and now attempts are made to enhance the inputs to get more yields per hectare. The cultivator, propgation and agronomy techniques have been developed on the basis of end use of the cultivation/Plantation
Moringa cultivation techniques differ greatly according to the product harvested. There are broadly 3 main products from Moringa farming
Leaf/Powder
Pods/Fruits
Seeds/oil
The experts/scientists at ABC has drawn specific technology for different purpose viz: for leaf: for fruits: for seeds/oil from cultivar to consumption. PKM1, PKM2 and MOMAX3 produced in India are meant for a very specific use of end product
The main issues that would need to be discussed during workshops are tree density, tree management, tree-crop interaction, fertilisation and irrigation, pest and diseases control, tree-crop interactions, and production time span for farming developed for different purpose including following.
Optimal densities
Tree management
Fertilisation and irrigation
Protection against pests and diseases
Production time
Harvesting methods
Economics of Moringa production
2. Oil production and trade
Oil production is one of the promising areas for Moringa economic exploitation. The composition of the oil is exceptional in terms of stability
The workshop should clarify several issues pertaining to oil production and trade:
What are the most suitable Moringa cultivar and technology for oil production?
What are the best seed production methods and what yields can be expected?
What economic assessment is available on seed production and processing?
What is the state of knowledge on oil processing technologies?
What is the state of knowledge on Biodiesel processing technologies?
What are the possible markets for Moringa oil and what is needed to enter those markets including Biofuel and Biopharma prospects?
3. Moringa for nutrition and health
Moringa offers a nutritious food option for people living in developing countries. At the same time, Moringa is vying for a position as the next superfood trend Moringa is also said to have health benefits such as high levels of protein, calcium, vitamin C, iron, and antioxidants, per a nutritional biochemist. This nutritional profile could stand Moringa up against products that food companies traditionally use to provide nutritional value, such as milk, yogurt, and oranges.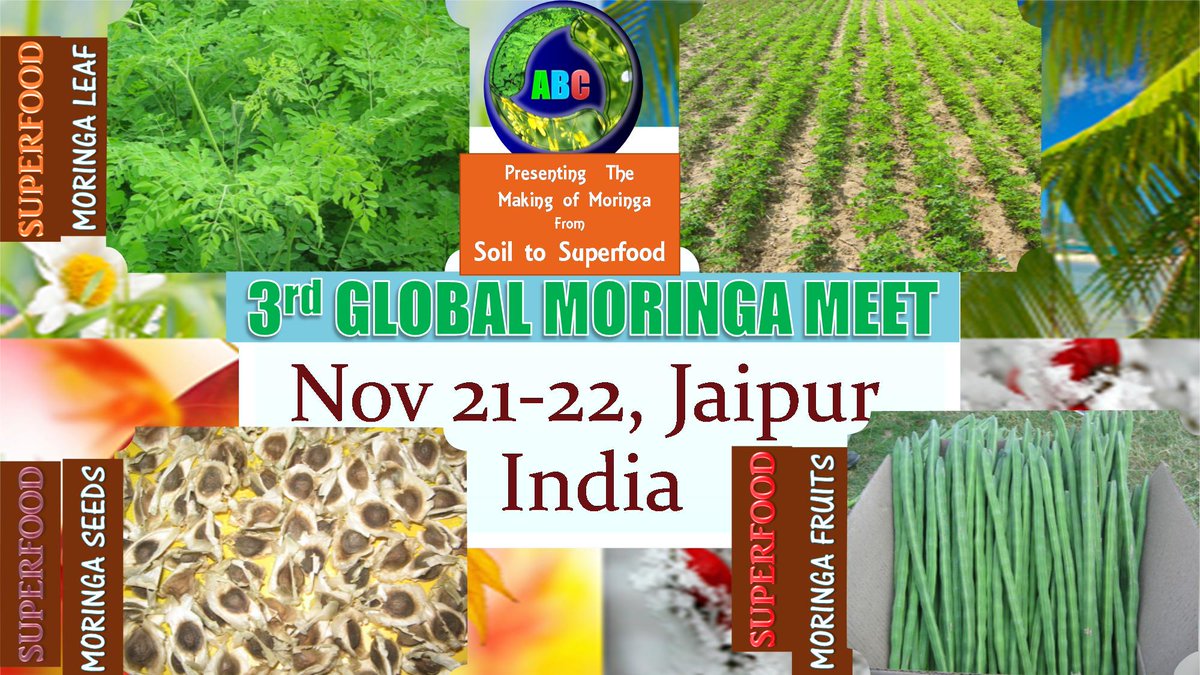 The outstanding nutritional qualities of Moringa leaves (very high content in vitamins, minerals and proteins) have raise a lot of interest and it's not uncommon for food companies to jump at the opportunity to use the trending ingredient. Global Industry Analysts predicted that the functional food, or superfood, market would reach $130 billion this year. Therefore it has become more important to grow and harvest Moringa in scientific way and process in hygienic way to keep natural signature of plant intact.
Since Moringa supplies missing nutrients in the modern diet,  a worldwide demand of Moringa products as food or herbal supplements have been growing tremendously and this lead to growing number of Moringa product suppliers. The Google search shall take you to thousands of suppliers who merely interact with Moringa but claims to be the best product supplier. So it is very difficult to know the exact quality product provider. And people select the least priced without quality check.
Therefore following issue are very vital and need to be addressed and discussed into the meet
How to grow and harvest Moringa for leaf purpose?
How to increase leaf production?
How leaves are processed in powder?
Leaf processing is often a bottleneck to leaf powder availability; mechanisation of some processing stages could considered and adequate technologies developed, conservation and storage conditions improved. The meet may highlight propositions in workshop with participants on these aspects.
The Third Global Moringa Meet's themes have been drawn around above three pillars and meet is constructed on basis of IP knowledge about Moringa, technologies, scientific investigations, a holistic approach is fundamental to develop Moringa products production, processing and trade. The aim of this workshop is to yield concrete projects that integrate the many aspects of Moringa exploitation. This meeting is an opportunity for people with various skills to team up and design future farms for Moringa business. With Moringa bridging the gap between food and fuel, finance and investment firms are picking Moringa as an opportunity to provide rewarding returns in the investment market.
Commenting upon upcoming Moringa meet Mr. Maharshi further said, "With the 3rd Moringa Meet 2015 we want to awaken in Jaipur on worldwide interest in Moringa cultivation project. Our target groups are from poorest of poor countries to most vitamin consuming countries. The 3rd Moringa Meet 2015 will combine international expertise in Jaipur and present it to the audience. The strategy and content will be represented in three thematic sections.
Section 1 – Cultivation: Moringa
Section 2 – Processing: the processing capabilities and techniques of Moringa leaf/seed/oil
Section 3 – Preconditions: Growing Moringa under aspects of environmental and social sustainability"
"If you are an investor interested to develop Moring plantations, the Moringa Meet 2015 is an ideal meet for you. Because at this conference, key experts will deliver insight on the technical and scientific aspects of Moringa cultivation! More specifically, you'll hear on high yielding materials and crop improvements by relevant authorities include:-Elite Breeding and Genetic Improvement -Developments in Moringa Varieties High Yielding Materials -Agronomic Specificities and Yield Potential" He said
All the information you need about GMM 15 can be found on its website: http://jatrophaworld.org/global_moringa_meet_81.html
MORINGA INDIA is proud of introducing cutting edge technology to harness the power of Moringa as it has incredible strength in terms of Moringa research and technology and we hope, with the help of our expertise and experience participants shall see real opportunities for using this opportunity as a hub of excellence and knowledge to progress the Moringa industry.
The 3rd Global Moringa Meet India is the most authoritative Moringa Programme and the ONLY event that you need to attend to keep abreast of the development in international Moringa sector. Now is a high time to confirm your participation at 3rd Moringa Meet India and avoid disappointment as seats at the Programme sell out fast!
For registration information click here or contact us
DP MAHARSHI
PRESIDENT MORINGA INDIA
ADVANCED BIOFUEL CENTER
+91 9829423333 (WhatsApp)
Skype: cjp-india
http://jatrophaworld.org/global_moringa_meet_81.html
About Advanced Biofuel Center
Advanced Biofuel Center (ABC) conducts advanced multi-feedstock research in the industry's non-food energy farming crop improvement programme and addresses the complete value chain. As a producer of proprietary seeds, ABC is in the most attractive segment of the biodiesel value chain — upstream from the capital intensive refining and conversion of biodiesel.
ABC's goal is to triple dedicated biodiesel crop yields within 10 years, increase the oil content to 48% and, in combination with other crops, target an oil yield that is 1500 gallon per hectare. Researchers also hope to increase the quality of the oils and other products produced—while minimizing inputs including pesticides and fertilizers.
At ABC, the dedicated biodiesel crop curcas plants' biology and genetic profile have been subjected to intense scrutiny, as molecular and genetic scientists collaborate with agronomists to breed and develop cultivars suitable for large scale fuel farming. Traditional breeding, inter-species hybridisation, genetic modification, and advanced cloning techniques are all being applied to produce new commercial cultivars.
Enhanced cultivar and seeds
After 11 years of continuous research and experiments in cultivating and breeding dedicated biodiesel crop curcas and other biofuel crops, ABC has developed a systematic breeding and cultivar development strategy. Newly bred cultivars are extensively tested in multi-location trials and true to type seeds are being produced using the organization's improved seed product line. Improved seeds result in greater yield, uniformity and vigour while significantly reducing plantation costs for growers. JCLMax3, MOMAX, DI03SAP etc improved varieties have been tested and developed for a range of climatic and soil conditions.
ABC's dedicated biodiesel crop agronomy knowledge platform focuses on 'plantation technologies' and has run an agronomy research programme alongside the breeding programme that looks into all agronomy issues.ABC further share and distribute its knowledge and expertise through its knowledge arm Biodiesel Business Academy
ABC scientists are continuously working on enhanced genetics, agronomics and horticulture sciences to drive new varieties, more knowledge around the plant's nutritional requirements and more science-based processes for the care and custody of the plant.
Balancing resources to create a sustainable long-term solution without harming the environment is the challenge. The focus must remain on balancing the three major areas—genetics, agronomics and horticulture practices—so the plant will grow with optimal productivity.
We are confident that scientific advancements can demonstrate, preserve, and enhance biodiesel\\\\'s ability to help meet the food, feed, fiber, and energy needs of the future.
We have a state-of-the-symbolization base that is generally outfitted with cutting-edge innovation based apparatus and world class conveniences. We have isolated our office into numerous divisions to guarantee that greatest conceivable operational proficiency is accomplished.
ABOUT MORINGA INDIA
Moinga India is making huge efforts, experiments, research to harness the harnessing the "superfood" powers of Moringa oleifera, a drought-resistant tree native to North India and widely used throughout the topics for in solving this global problem. Moringa shows great promise as a tool to help overcome some of the most severe problems in the developing world—malnutrition, deforestation, impure water and poverty. The tree does best in the dry regions where these problems are worst. Green leafy vegetables and fruits supply much needed essential micro-nutrients like beta-carotene [vitamin A], vitamin C, folic acid, and also calcium and potassium. Moringa leaves in particular are a rich, inexpensive source of micro-nutrients. Although few people have ever heard of it today, Mission Moringa India is to establish the Moringa to become one of the world's most valuable plants, at least in humanitarian terms Moringa India has been formed to identify the factors limiting the adoption and use of the Moringa Tree for Agricultural Development for Producing Biodiesel and to explore the important role Moringa play in the lives of rural people and the global economy deliberating advancement of existing and future agricultural development projects. It's experience, expertise, and views about Moringa and its use for agriculture development for the purposes of reducing hunger and poverty and formulate strategies for developing moringa failsafe farms and also helps new growers to have holistic information on moringa crop with academic research activities in Agronomy, Horticulture, and Biology, industrial practices in biofuels , Marketing and Financial aspects of Moringa commercialization. It will be a great pleasure to share the up-to-date advances in both fundamental researches and engineering practices, and to project the areas where we may contribute to to harness the full potential of moringa for betterment of people and planet Moringa India is one of the largest growers of Moringa Oleifera and maintains Moringa farms in scientific manner. With its extensive experiences in the field, enhanced technology, plant science & professional knowledge, effective consulting service and business intelligence, Moringa India has developed a set of tools/service to develop Moringa business from soil to superfood, from farming to fuel