Columbus-based Rite For You Corporate Wellness announces name change
Industry: Health and Nutrition
Repositions and expands its corporate wellness programs to include non-traditional services
Columbus, Ohio (PRUnderground) November 9th, 2015
Rite for you Corporate Wellness has changed its name to Alyfe Wellbeing Strategies. The rebranding signifies the evolution and growth of the company and the shift in focus as it adapts to changing market realities. The new brand will expand its services into non-traditional areas of wellness, enhance current services and strategically leverage over 20 years of expertise in nutrition as a crucial part of its programming. The goal is to offer clients an increased set of integrated services.
Workplace wellness programs are popular among employers as a means of lowering healthcare costs. In fact, more than two-thirds of U.S. employers currently offer corporate wellness programs as part of employee benefits, according to a 2015 study by the Society for Human Resource Management. Traditionally, these programs have been directed at improving the physical health of employees.
There is however growing evidence, supported by surveys and studies from Gallup, The World Economic Forum, and other independent organizations that when employers care about the overall well-being of employees as opposed to just physical health, it results in increased productivity and greater financial impact to the company bottom line. Often, this requires employers to offer many different types of programming that would not be included in a traditional health and wellness plan.
Alyfe is leading the way in providing non-traditional offerings to employers in order to increase the employee's overall satisfaction with their life. By providing a diverse set of services that focus on physical, emotional, social, career and fiscal aspects of well-being, Alyfe will steer companies towards taking a more comprehensive whole-person approach. The result will be a happier, healthier, more cohesive organizational culture, employees who have increased tenure at their organizations, and ultimately, an increase in productivity.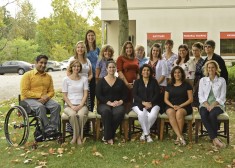 When asked to comment on Alyfe's new shift in focus, Nikki Hudsmith, who led the research and development efforts for the Gallup-Healthways Well-Being Index and is currently the Vice President of Operations at Performance pH, an advisory firm that helps companies improve operational performance, said, "The most current research shows that employees who achieve higher overall well-being are more engaged at work, report fewer unscheduled absences, and have lower healthcare costs.  We now know that employers can substantially impact their employees' health and performance by expanding their workplace wellness programs to include a more comprehensive approach to overall well-being. Alyfe's approach to well-being will provide the framework that employers need to take their wellness strategies to the next level."
The new name 'Alyfe' signifies the transformation that happens when one finds the 'Y' in life. The new name and butterfly logo will better reflect the company and its services in the years ahead.
About Alyfe Wellbeing Strategies
Alyfe Wellbeing Strategies is a woman-owned minority business based in Columbus, Ohio. The company successfully serves the corporate wellness needs of businesses across the Midwest. With over 20 years of experience in healthcare, Ms. Kay Lakhi is the driving force behind the company's steady growth. She was named 'Small Business Person of the Year 2012' and has served as the chairperson of the Worthington Area Chamber of Commerce and as the President of the Columbus Dietetic Association. Ms. Lakhi is not only an experienced and qualified healthcare professional, but also an extremely successful visionary. She is the Founder, President and CEO of Alyfe Wellbeing Strategies, Dietary Solutions, and Rite For You Nutrition Center.
Website: www.alyfewellbeing.com