CodeTactic announces "the #VideoSquad", a new video production service team in North America
Industry: Video
CodeTactic announces new video production services to the USA and Canada market. Request a professional corporate video with full production and promotional services.
Vancouver, Canada (PRUnderground) November 10th, 2015
CodeTactic Media Inc. unveils their latest addition to their portfolio of services, video production. Named the #VideoSquad, this full-fledged video production services team will be in charge of creating high-quality videos for customers throughout North America.
Customers interested in video production services can choose between 15, 30 and 60 second  high-quality videos. Videos can be anything from customer testimonial videos, corporate profile videos, branding videos, to custom ads completely tailored to their requirements. Booking can be made completely online through CodeTactic's vancouver Vancouver video production services page.
CodeTactic's #VideoSquad handles both the pre-production and post-production of the video-making process. Pre-production includes planning the concept behind the story, crafting the script, creating a storyboard and location scouting. Editing raw footage, cutting scenes and adjusting sound bites are some of the components behind post-production. In addition, they will handle the promotional part of your video through different video marketing tactics.
Video viral marketing services tactics are also included in CodeTactic's affordable video production services to promote the client's story to their customers. "This is a gravely underlooked component in most businesses," says Sam Yama, Senior Account Executive at CodeTactic Media Inc. "Our #VideoSquad aims to create stories that will not just resonate in people's minds, but inspire them to join businesses in their collective aim." Post-production video promotional services include social media engagement, search engine optimization services (SEO), ROI and conversion rates, among other tactics to compliment one's own digital marketing efforts.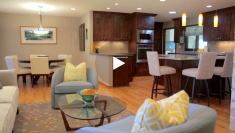 The decision to include promotional services in their video production package comes from the company's longtime commitment to online marketing. "Most businesses are unaware of the power videos can have in their online marketing efforts," expresses Sam. "The potential a single video can have to drive traffic and sales is astounding." Statistics on video marketing reaffirm this claim: 91% of customers decide to buy something after watching a video online.
For more information on CodeTactic's #VideoSquad, businesses can connect with them through their vancouver video production services page. Questions regarding the video's format, length, pricing and procedure can all be found in the FAQ portion of their website.
About CodeTactic Media Inc