CIO Review Recognizes Fusion PPT Federal Enterprise Architecture Experience
Industry: Consulting
CIO Review Magazine has selected Fusion PPT as one of the twenty most promising Enterprise Architecture (EA) Solution Providers of 2015.
Vienna, VA (PRUnderground) July 23rd, 2015
Fusion PPT, a recognized strategy and technology consulting firm announced today that CIO Review Magazine has selected Fusion PPT as one of the twenty most promising Enterprise Architecture (EA) Solution Providers of 2015. As a recognized leader in innovative IT solutions, Fusion PPT was featured on the cover of the magazine with an in-depth article on Fusion PPT's approach to EA.
"It's an honor for Fusion PPT to be recognized by CIO review Magazine. Fusion PPT works diligently with our clients to ensure that our EA work is pragmatic and actionable for our customers," remarked CEO Michael Biddick.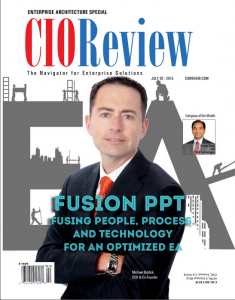 Fusion PPT has "in-the-trenches" experience with the technology that allows them to develop architectures that work in the real world. Enterprise architecture is one of the most powerful management tools used by progressive organizations. As a perfect vehicle for making multi-year technology changes, enterprise architecture enables the ongoing alignment of business processes and strategies with the right technology solutions. Enterprise architecture helps busy IT and business executives transform data about technology into powerful management insights. Resilient and influential, the right enterprise architecture can set the business direction and help IT stay focused on one vision of the future.
To support EA work, Fusion PPT typically conducts interviews with key personnel to understand their specific mission needs. Ambitious ideas and innovative concepts are broken down into component parts to demonstrate a realistic deliverable in terms of architecture support infrastructure. A matrix is then created of all data captured from this endeavor, published to all stakeholders, and final decisions on the direction the architecture are documented.
Fusion PPT EA staff have years of experience in planning and managing enterprise architectures. They bring that experience to bear and engage the talent and knowledge of agency staff to identify gaps for any project. A careful analysis of perceived gaps are conducted for validation and then risk assessment is performed. After all parties are satisfied with the description of the gaps, cost-effectiveness analysis is conducted and a final determination will be made on achieving business enterprise needs.
To see the full list visit and read the article please Click Here
About Fusion PPT
Fusion PPT is an established leader in providing IT consulting and system integration services to federal organizations with challenging technology initiatives. As a privately held small business, Fusion PPT combines the best practices and expertise found at large consulting firms with a nimble, entrepreneurial and client-focused service team. Since our inception in 2009, we have contributed to the success of hundreds of IT projects, most spanning the globe in their reach and impact. Our ability to perform and add value in complex, diverse and distributed environments has earned us a solid growth rate and a reputation as a trusted, capable and results-oriented service provider.
To learn more about Fusion PPT, visit our website at www.fusionppt.com.