Christopher Johnson Appointed to Board of National LGBT Museum in New York
Industry: Cultural Arts & Entertainment
Tech Firm StarOryon Announces Founding Partner Appointed to Board of Directors as National LGBT Museum Continues Major Expansion in New York
New York, NY (PRUnderground) January 5th, 2016
The technology firm StarOryon announced today the appointment of Founding Partner, Christopher Johnson as a Member of the Board of Directors of the National LGBT Museum in New York, effective immediately. Mr. Johnson's appointment continues the Board's expansion that includes Tim Gold, husband of the Founder of the acclaimed high end home furnishings company Mitchell Gold + Bob Williams and Javier Morgado, an Executive Producer for CNN, among others.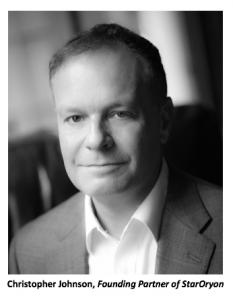 The National Museum will become a vital part of the museum-scape and culture of New York—delivering an unrivaled perspective on human rights, gender equality and the diversity of LGBT people worldwide. "Christopher's 25 years of broad experience will bring a valuable perspective to our Board of Directors," said Tim Gold, Chairman of the Board. "We appreciate his willingness to serve the National LGBT Museum and look forward to benefitting from both his talent and counsel."
"This museum is of extraordinary value to the people of New York and around the world," said Christopher Johnson. "The last year has brought unprecedented advances for human rights in America that will undoubtedly continue. This museum is now truly for everyone."
Founded by Smithsonian veterans, academic and art world leaders, the museum has an international focus—inspiring understanding from the multitude of human rights movements in America and around the world. "In the same way the United States Holocaust Memorial Museum and the National Museum of the American Indian appeal to visitors from diverse backgrounds, the National Museum also appeals to everyone—schools, families, historians, artists, New Yorkers and to visitors from across the globe," said Mr. Johnson.
"More than just a museum, we are working to build a vibrant organization without walls where everyone feels at home and wants to return to again and again because something new is always happening," said Javier Morgado. "Visit our website to sign up and please donate—your generous gift will help make history."
About Christopher Johnson 
Christopher Johnson is Founding Partner of StarOryon. Mr. Johnson is a highly regarded authority on strategy, technology and global branding for such firms as JetBlue Airways, AllianceBernstein, and Infiniti Motors. He attended Carnegie Mellon University and serves on the Boards of the U.S.-Afghan Women's Council led by First Ladies Hillary Clinton and Laura Bush, the National LGBT Museum and the New Jersey Symphony Orchestra. https://www.linkedin.com/in/christopherjohnsonceo
About the National LGBT Museum
The National LGBT Museum delivers a universal perspective on human rights, gender identity and diverse LGBT people worldwide. Our substantial collection and new programs include people from all over the world. To become a Founding Member visit: http://nationalmuseum.nyc
About StarOryon
StarOryon is focused on growing brands. Operating one of the world's most innovative technology platforms, we drive value for companies, celebrities and organizations—helping to grow any brand's audience wherever they live. http://staroryon.xyz