Casestudi Announces Thinnest Wireless Backlit Keyboard for iPad, Clutches Kickstarter Funding
Industry: IT
Casestudi's crowdfunding campaign for Libre Keyboard Folio exceeds goals.
New York City, New York (PRUnderground) April 2nd, 2015
Casestudi recently launched a Kickstarter crowdfunding campaign for its one-of-a-kind keyboard, the thinnest wireless backlit keyboard of its kind. The campaign has just secured its goal of raising $15,000 via Kickstarter with help from hundreds of pledgers.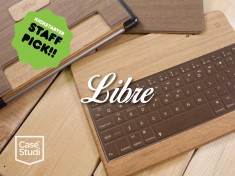 The Libre Keyboard Folio from Casestudi is an eyecatcher at first glance with a walnut finish, thinness of 5mm, clean lines, and stylish design. Casestudi's keyboard comes with three pieces that make each package easy to customize. With an iPad case, keyboard cover, and stand alone cover, users can choose exactly how they want to use their keyboard and with what device. The Libre Keyboard Folio can seamlessly connect with any device that is supported by Bluetooth HID Profile, which includes ever-popular iOS, Android, Windows, and more, and it can "remember" up to three profiles. Sleek and practical, the Libre Keyboard Folio is spill proof and supported by a secure magnetic attachment. With the 4 level backlit keyboard, users can seamlessly use the Libre Keyboard Folio for travel, in the dark, on a night out, and anywhere else at anytime with convenience and style.
The Libre Keyboard Folio was built for mobile users who, like the founders of Casestudi, needed a reliable accessory to boost their productivity. While there are many keyboards on the market that are designed for iPads, the founders felt there wasn't a feature rich keyboard that met the needs of users. So, they set out to create a keyboard that could do it all. In the outset of their project, they had designed the Libre Keyboard Folio. In a recent mini-review with 9To5Mac, Ben Lovejoy commented, "The keyboard itself is just 5mm thick and weighs only 200g, yet manages to squeeze in a backlight and the ability to switch between up to three devices."
At the time of the Kickstarter campaign's launch, Casestudi had already developed two working prototypes of the keyboard and conducted testing and improvement. The company decided to raise the funds needed for final design and testing and production via crowdfunding. Casestudi aspired to raise $15,000 and product awareness via Kickstarter, and both objectives were quickly met. The funding goal was met, and the Libre Keyboard Folio became a Kickstarter Staff Pick. In return for their pledges, supporters will receive various versions of the Libre Keyboard Folio. Excess funds will also go towards production, and the team at Casestudi would like to officially thank all those who have pledged towards their campaign.
More information is available at https://www.kickstarter.com/projects/337706842/libre-the-premium-keyboard-case-for-your-ipad.
About Casestudi
Casestudi is a New York-based designer of keyboard and input related products founded by a team of industry experts with 10+ years experience.