California's Marble Mountain Guest Ranch Now An Accredited DRA Member
Industry: Tourism/Vacation
One of America's most respected vacation ranches, Marble Mountain Ranch, announces acceptance as a Dude Ranchers' Association member.
Somes Bar, California (PRUnderground) January 30th, 2015
California's Marble Mountain Guest Ranch is pleased and excited to announce that it has been accepted and accredited by the prestigious Dude Ranchers' Association (DRA) after over 20 years of resisting the call to join the association.
The Dude Ranchers' Association was formed in 1926 with the aim of preserving the special way of life and the marvelous environment in which dude ranching takes place. It serves as the governing body of the West's Dude Ranch industry and provides an organized structure for members that allows them to exchange ideas and experiences with the aim of upholding the highest quality of services within the industry. It promotes the western ranch vacation, while continually fostering a strong working relationship with the Federal and State land agencies for the preservation and protection of parks, forests, and wildlife.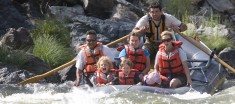 Now representing over 100 members in 14 Western States and 2 Canadian Provinces, the Dude Ranchers' Association has been dubbed by the public, the media, and travel agents as the leading authority of dude ranch vacations. Application for membership in the association is rigorous as dude ranchers have to undergo a two-year inspection and approval process. A number of strict by-laws must be followed in order to become and remain a member ranch. Applicants and members must be inspected and verified as meeting and maintaining Dude Ranchers' Association standards of excellence. This way, the association can help the people be assured of quality guest ranch vacations for a genuine, western experience.
Having passed the strict and rigorous application and approval process in the previous year, the Marble Mountain Guest Ranch is more than proud and excited to be a member of the association. As a Dude Ranchers' Association member, it now has access to training and professional growth courses made available by the association for the constant improvement of members' levels of service. Guests can be assured that the ranch is operating at the highest standards of the ranching industry and that they are treated to genuine western hospitality.
About Marble Mountain Ranch
Dude ranch vacations for families are taken to a new level at Marble Mountain Ranch. Enjoy a guest ranch vacation horseback riding or trail riding in California.