Café Commerce in San Antonio is a One-Stop Shop for Entrepreneurs and Small Business Owners
Industry: Non Profit
Through a partnership with the City of San Antonio and LiftFund, Café Commerce offers programs, workshops, networking opportunities and valuable resources at no cost.
San Antonio, TX (PRUnderground) June 30th, 2015
Entrepreneurs and small business owners differ immensely and require various forms of resources to start, grow, and sustain their businesses. While the former apt to take big risks for the future, the latter are more focused on day-to-day business decisions. Meeting the varied and demanding needs of both requires developing very specific programs and resources for success.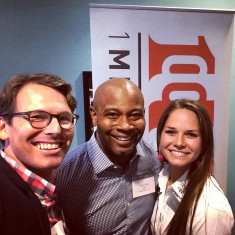 In San Antonio, Café Commerce is doing just that. The non-profit organization is designed to foster entrepreneurs and small business owners with educational programs, in-person assistance, and valuable resources – at no cost. By articulating the pathways of both small businesses and entrepreneurs,  Café Commerce aims to maximize the client's potential by drawing a map of separate steps, or guidelines, for both groups to follow – aiding in the overall problem solving process. "Our  mission is to identify the gaps and then fill them," states Peter L. French, President of Café Commerce SA. "We identify what doesn't exist in the current ecosystem and what is needed."
Housed in the San Antonio Central Library, Café Commerce has developed a myriad of educational programs designed to assist and increase the small business and entrepreneurial footprint in San Antonio:
1 Million Cups – a weekly event where two local entrepreneurs have the opportunity to present their business ideas to an audience of fellow entrepreneurs, advisors, and mentors.
Break Fast & Launch – the nation's first culinary business accelerator, bridging the gap between startup and sustainable with mentorship, business training, and support.
Pitch Tab – provides small business owners and entrepreneurs a chance to present their ideas after business hours in a casual, fun environment.
Ice House Entrepreneurship Program – a highly interactive program where students learn directly from "unlikely" entrepreneurs and are immersed in real-world entrepreneurial experience.
Downtown Retail Loan Fund – a dedicated loan fund for small business owners interested in opening a new retail business in downtown San Antonio; provides ongoing support and guidance.
About Cafe Commerce
Cafe Commerce is a one-stop shop where entrepreneurs and small-business owners can gain valuable information, resources, market data, and expert guidance to help start and maintain their business. A partnership between the city of San Antonio and LiftFund, Cafe Commerce opened its doors in June, 2014, and occupies 10,000 square feet at the San Antonio Central Library located at 600 Soledad St. For more information, visit cafecommercesa.org.