Business Invoicing Made Simple with TRACT Billing
Industry: Technology
TRACT by Transverse makes complex billing models easy to invoice
Austin, TX (PRUnderground) December 27th, 2012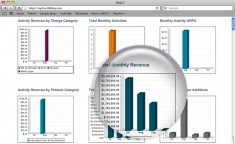 Unless a company has a static business invoicing model where few changes are made to products and pricing, it is important to seek out more than simple invoicing and payment capabilities (readily available from companies like PayPal). An overly simplistic solution will mean trouble when it comes time to modify product or marketing strategies, or when growth requires billing to scale quickly.
There are a number of fundamental capabilities one should expect in a Cloud Billing solution for business invoicing, not only to capture revenue, but also to cultivate relationships that build average revenue per user and customer loyalty. These include:
Charging/Rating
Data Mapping and Transformation
Process Orchestration
Customer Management
Product Management
Billing Management
Payment Management
Internet Of Things – Device and Service Management
Business Intelligence
Reporting
Audit and Control
Security
Monitoring
SOA API (SOAP/REST)
For most businesses, income is recognized as revenue only when the company delivers its product or service and receives corresponding payment. However, this can be difficult to properly calculate with a recurring activity or subscription revenue model. Finance professionals, faced with ever-increasing demands on them, need the right business invoicing tools to be able to manage this issue.
TRACT is different because the platform was built around this important accounting standard. TRACT transfers deferred revenue to actual revenue accounts using a series of general ledger (G/L) transaction rules determined by user defined G/L posting rules. TRACT supports the daily update of accrued revenue, making business invoicing a more strategic tool.
To learn how TRACT Billing can help with your business invoicing needs, please visit www.gotransverse.com.
About Transverse
Transverse was founded in 2008 by billing experts who saw an opportunity to make sophisticated billing capabilities available to more businesses. TRACT Billing from Transverse is the only all-in-one activity-based billing platform that can meter, rate, and bill based on customer behavior. Unlike basic subscription or expensive legacy billing systems, TRACT provides a simple solution to complex billing challenges while empowering companies to engage with customers and rapidly monetize the launch of new products and services. Learn how TRACT can help your business at http://www.gotransverse.com.