Building Products Plus Earns IPEMA Certification For Their Playground Surfacing Material
Industry: Education
Does your playground meet the U.S. Department of the Interior's regulations?
Houston, TX (PRUnderground) April 20th, 2015
All public playgrounds must meet certain standards in order to assure the safety of our children. The US Department of the Interior has set requirements for the playground structures themselves and for the playground surfacing. Building Products Plus offers engineered wood fiber that is certified and high quality:
Made from100% virgin wood
Chemical free
Have minimal bark coverage
Free of twigs, leaf debris and other organic material
IPEMA (International Playground Equipment Manufacturers Association) follows the ASTM F1292 Standard Specification for Impact Attenuation of Surface Systems Under and Around Playground Equipment test methods to certify manufacturers who produce playground products and surfaces. Using these test methods IPEMA can determine whether the product for playground surfacing meets all qualifications for reducing the likelihood of life-threatening head injuries, should a fall occur.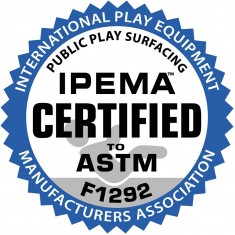 The tests conducted include dropping an instrumented metal headform onto the mulch and recording the data to ensure the "critical height" rating. This height, as stated in the ASTM F1292 certification, "can be considered an approximation of the fall height below which a life-threatening head injury would not be expected to occur". This easy to install and maintain engineered wood surface provides a soft and springy cushion mandated by the US Department of the Interior for all public playgrounds.
Building Products Plus is a locally owned and operated manufacturer of this surface and is certified by IPEMA to meet all necessary standards. Upon delivery of your engineered wood fiber, they will provide you with your Certificates of IPEMA Compliance for the surface of your playground.
For more information, or to order your engineered wood fiber product, call 800-816-0335, visit www.buildingproductsplus.com/engineered-wood-fiber.shtml or email dab.1@buildingproductsplus.com today.
About Building Products Plus
Building Products Plus is a Houston, TX manufacturer and supplier of standard and custom extended-life and structural lumber and timber products. They produce and supply products for custom residential, marine & shoreline, commercial, energy-related, and industrial projects.