Brandywine Senior Living Becomes a Business Partner with The Pennsylvania Academy of the Fine Arts
Industry: Healthcare
Greater Philadelphia Area (PRUnderground) November 11th, 2015
Love art? Discover the greats and the up- and -coming.
Brandywine Senior Living and The Pennsylvania Academy of the Fine Arts (PAFA) have joined forces in a first-of-its-kind business partnership to bring the arts into senior living.
The Pennsylvania Academy of the Fine Arts, located in Center City Philadelphia, is the oldest art museum and school in the nation. While its American history is deep and rich, its contemporary vision is apparent in the work of its student body and forward leaning exhibitions.
Brandywine Senior Living will work alongside PAFA to develop art programs that will assist seniors in exploring and developing work that is important to them. By fostering a connection with the larger creative community at Brandywine locations in the Greater Philadelphia area and Southern New Jersey as well as at the Academy, this unique partnership will compliment Brandywine's Escapades…for Life! and INVEST signature programs. It will not only create, but also promote a positive impact through active participation in arts-based activities on the health and well being of seniors and their families at Brandywine.
"The relationship with PAFA we will not only bring art into our communities at a higher level, but through creative collaboration, together we can provide an innovative platform for self-expression for our residents," said Maria Nadelstumph, Vice President of Organizational and Program Excellence. "A platform that celebrates individuality, diversity and creativity at every level."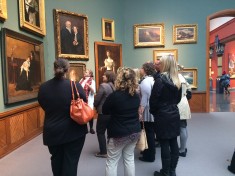 PAFA's Business Partners Program offers an outstanding array of benefits to its member companies and their employees. Members enjoy museum admission, VIP invitations to new exhibitions and special events, significant discounts on entertaining and client services, and unparalleled education and professional development opportunities.
"PAFA is a community partner with a wide range of groups, including companies, nonprofit organizations, schools and other arts-focused institutions," said Paula Green, PAFA's Vice President of Corporate Programs. "We are proud to partner with Brandywine Senior Living in this exciting new initiative, designed to bring about breakthroughs in personal artistic expression for participants, allowing them to share the wisdom that they have gained through a lifetime of experience."
About PAFA
Founded in 1805, the Pennsylvania Academy of the Fine Arts (PAFA) is America's first school and museum of fine arts. A recipient of the 2005 National Medal of Arts, PAFA is a recognized leader in fine arts education with world-class permanent collection of American art.
About Brandywine Senior Living
Brandywine Senior Living is a leading provider of quality care and services to seniors. Dedicated to promoting independence, dignity and individuality, the Brandywine team has a long history of providing a network of healthcare services in the Mid-Atlantic region including assisted living, Alzheimer's and dementia care, and sub-acute rehabilitation.