Boundless Costa Rica to Offer Vacation Packages That Can Really Change Lives
Industry: Tourism/Vacation
Through Large Donations, a Small Company Plans to Change a Country and the People Living Within It
San Jose, Costa Rica (PRUnderground) July 31st, 2015
Boundless Costa Rica today revealed the plan to donate 80% of its 2015's profits. The company, known for selling and planning Costa Rica vacations, is looking to make corporate social responsibility part of its core. The donations will be made to non-profit organizations in Costa Rica that care for eradicating poverty, rescuing wild life, and helping the environment. The company is looking also to create internal programs to assist in these causes.
Costa Rica is known for being a top tourist destination; a country that has 25% of its surface protected, and that makes up about 5% of the entire world's biodiversity. Costa Rica is also known for its exportations of bananas, flowers, and coffee. Its army was abolished back in 1948, and since has relocated these funds to invest in education. In fact, Costa Rica has one of the best education systems in the entire American continent.
Even though Costa Rica is famous among tourists, and even among other countries, Costa Rica is still a third world country that suffers from all the challenges that come along with that. The world's economy has suffered greatly in the past few years, and Costa Rica is not exempt. In an article dated October 30th, 2014, "La Nacion" (local newspaper) reported that extreme poverty is still present in 6.4% of all households in the country; while 22.4% of all households live under the poverty line. That is to say that 22.4% of the population still makes less than $140 per person per month in each household.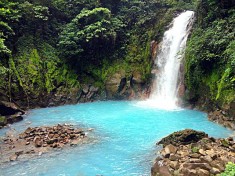 These reasons inspired Boundless Costa Rica's executives to take action. "We always wanted to do something to help the community and make a big impact. We considered starting a non-profit, but we do not really have the necessary human resources to do so right now. So we decided to start with this donation, and then based on its results come up with plans for future years," said Boundless Costa Rica's President Pablo Centeno. "If you think about it, supporting this good cause can be the perfect excuse to take a vacation to Costa Rica."
There are many organizations that do an amazing job in helping the community and protecting the environment and wildlife in Costa Rica; however, the executives of Boundless Costa Rica want their customers to get involved with the decision of who to donate to. Employees will choose 3 to 5 organizations at the end of the year that they consider need the most help, and the customers who traveled during the year will vote for the organizations they believe should get the donations. The votes will dictate how the donation is split among the chosen companies.
About Boundless Costa Rica
Boundless Costa Rica is a company based in Costa Rica, with offices in Orlando, Florida. It offers all-inclusive, pre-designed and also personalized, vacation packages to Costa Rica. The company works with most local tour companies and hotels in the country, offering a wide variety of accommodations and experiences. They also organize honeymoons and romantic getaways, private groups, family vacations, bird watching tours, and much more.