Book London Hotels to see Dave Gorman: Powerpoint Presentation with Hotel Direct
Industry: Tourism/Vacation
Why not book London hotels with Hotel Direct for Dave Gorman: PowerPoint Presentation at the HMV Apollo this November
London (PRUnderground) November 5th, 2011
Why not book London hotels with Hotel Direct for Dave Gorman: PowerPoint Presentation at the HMV Apollo this November.
The cult comedian, author and radio presenter will be hitting the Hammersmith venue in London on November 24th with his new innovative and genre stretching live show which revolves around a projector and a hilarious PowerPoint presentation.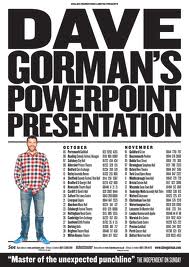 The versatile comedian combines witty stand up and commentary with intricately layered slides with a number of perfectly timed audio and visual jokes that combine for an amazing night of comedy.
Dave has taken the show to Edinburgh earlier this year and received great praise and sold out each of the 28 shows he put on at the premiere comedy festival.
Dave's fantastic live tour started in October and saw him visit a number of areas including Newcastle, Liverpool, and Cardiff, then in November he will be hitting in cities and towns such as York, Bristol, Wolverhampton, Belfast and Coventry.
Those familiar with Gorman's previous work such as 'Dave Gorman's Googlewhack Adventure', 'Are you Dave Gorman?', 'America Unchained' and his Absolute Radio show will no doubt understand that this event is not to be missed.
Tickets are still available for the London show later this month, so get booking along with your hotels in London. Hotel Direct offer a fantastic range of accommodation options in the capital, from cheap hotels in London to get your head down in, to Luxury hotels for a real treat. Whatever your budget and needs, Hotel Direct will have the perfect hotel for you, all at fantastic discounted rates.
About HotelDirect.co.uk:
HotelDirect.co.uk is designed to help you find the best hotel deals in any city simply and quickly. You may be looking for a type of hotel like 5 star hotels, Cheap or convenient Hotels near to attractions or airports. Or perhaps one of our London Theatre breaks is just the ticket (plus a hotel of course!)
Every hotel is discounted. Our Special Offers present hotels with extra discounts and Hidden GemsTM is a fun way of offering you the greatest hotel savings – in this case secretly!
You'll receive the same hotel savings whether you book online or talk to one of our Expert Advisors, 7 days a week free on: 0800 633 8000 (+44 1872 261 100). Call us now to go direct to the best hotel prices.
About