Bonlook Expands Stylish Eyewear Options With New Metal Collection
Industry: Eyewear
Bonlook, a company obsessed with designing stylish and affordable eyewear, is expanding its mission to help customers look their best with a new metal collection
National (PRUnderground) March 20th, 2013
Bonlook, a company obsessed with designing stylish and affordable eyewear, is expanding its mission to help customers look their best with a new metal collection made of high-end stainless steel and in styles that are a modern take on classic vintage shapes. With over 21 styles and colors to choose from, customers have more opportunities to match their eyewear to their style.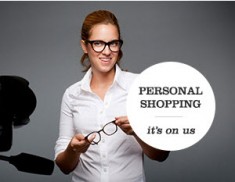 Blue Steel, Wasabi, 2 Many Cupcakes, Blizzard, Barracuda, Peacock and Captain Thunder, are just some of the styles in the collection – and they are as fun as they sound. Case in point, the Wasabi, featuring a retro, Mad Men-esque vibe; and, 2 Many Cupcakes whose light, barely there frame, belies its name. Inspired by the company's most popular frames, the metal collection offers customers a lighter look and feel. Whatever the look, all frames feature the latest technology in lightweight high-end brushed stainless steel for the ultimate in style, durability and strength; plus, custom silicon-based nose pads provide a non-slip, non-rubbing perch for unmatched comfort.
All frames, including prescription lenses, start as low as $99 and are shipped free in the continental U.S. from their optical lab in Brooklyn.
"Matte metal styles in more traditional acetate shapes are definitely picking up speed in many European markets. We decided to design such a collection as we are always striving to provide our customers with the latest trends in fashion eyewear. Our eyewear is designed to be an accessory as much as a handbag or pair of shoes," said Sophie Boulanger. "With tons of fashionable options at accessible prices, our customers can literally afford to match a pair according to their particular style, occasion (work or play) and mood," she continued.
BonLook, with operations in Montreal and Brooklyn, was founded by Sophie Boulanger and Melanie Daigle, two women determined to offer stylish, high-quality and affordable eyewear. The company was born out of the premise that glasses should not be as expensive as a computer or a mini vacation. BonLook also believes that affordability and great design don't have to be incompatible and its mission is to make stylish eyewear accessible to women everywhere.For more information please visit http://www.Bonlook.com
About Bonlook
BonLook, with operations in Montreal and Brooklyn, was founded by Sophie Boulanger and Melanie Daigle., two women determined to offer stylish, high-quality and affordable eyewear. The company was born out of the premise that glasses should not be as expensive as a computer or a mini vacation. BonLook also believes that affordability and great design don't have to be incompatible and its mission is to make stylish eyewear accessible to women everywhere. For more information please visit http://www.Bonlook.com