BogglesWorth Releases Free, All-New Music
Industry: Music
Electronic music producer fights global corruption and brutality with free music
YUCCA VALLEY, CALIFORNIA (PRUnderground) August 21st, 2015
Electronica music artist and producer BogglesWorth has officially announced the release of brand new music designed to fight corruption and brutality. The new music is available for free to listeners around the world.
BogglesWorth hopes to combat the global epidemic of corruption and brutality through knowledge and empowerment. By injecting this message into the lyrics of his free music, BogglesWorth feels that he can reach this goal by uniting people around the world to eradicate the evils of the earth.
In his own words, BogglesWorth is on a mission to produce "gnarly tunage and bring originality back to music." He uses digital and analog synthesizers to create his unique beats, which are a fusion of alien, unheard of melodies and sounds that entrance the ears and boggle the mind.
Although people might question his motives or his melodies, his actions show that he wants to make the world a better place for everyone. BogglesWorth hopes to show the world that although people are all very different, they can unite against the evils of the world.
BogglesWorth is not the typical musician. He prides himself on his quest to bring originality back to music and his obscure musical stylings. BooglesWorth views music as an art form that should be appreciated for what it is without trying to classify it in to any one particular category. BogglesWorth breaks through the boundaries of genre with his mysterious underground music and instead combines many different genres. This unconventional musician blends 80s electronica, 90s hip hop, as well as aspects of techno, house, trance, dubstep, and punk to create an innovative hybrid sound.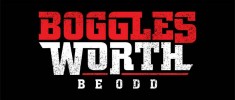 CPG Magazine had high praise for BogglesWorth saying, "BogglesWorth out of Yucca Valley, California, is next on our list of up and coming artists to watch out for. His production style is as unique as the alias he releases under and his sound creates an escape for his listeners with solid mixing skills, and a great sense of space and dimension. Rating: 9/10."
BogglesWorth hopes that through his music he can send a message to the world that the time to fight brutality and corruption is now, and the world must stand together in order to win this fight. The Freedom EP is now available for free, instant download at https://soundcloud.com/bogglesworthrecords/sets/freedom. More information about BogglesWorth and his musical stylings can be found at http://www.bogglesworth.net/.
About BogglesWorth
BogglesWorth is a Southern California electronica artist creating unique music for the masses.