Blueprint Healthcare IT Launches New Software To Drive Success With HIE
Industry: Healthcare
BluePrint: HIE Manager accelerates adoption, reduces timeline to productive use, and supports ongoing HIE operations and member management
Cranbury, NJ (PRUnderground) February 26th, 2013
BluePrint Healthcare IT – a leading provider of business software solutions and consulting services that enable health systems to establish secure, connected, and coordinated communities of care – today announced the general release of BluePrint: HIE Manager. The only solution of its kind specifically built to accelerate adoption, HIE Manager reduces the timeline to productive use of HIE for its members, and supports ongoing HIE operations and member management. The system – along with the company's entire portfolio of software solutions – will be showcased at the 2013 Healthcare Information and Management Systems Society (HIMSS) conference and exhibition in New Orleans, March 3-7 (Booth 8223).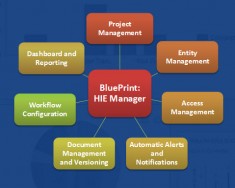 Built on Microsoft's robust Dynamics CRM platform, HIE Manager is a central source of real-time information on the status of HIE implementation, adoption and utilization across all participants. It replaces the mostly manual, time-consuming and often frustrating use of spreadsheets commonly employed to manage resource-intensive processes such as onboarding, interface management, subsidy programs, document management, and marketing/outreach. Moving beyond onboarding and adoption, HIE Manager supports bi-directional information exchange, electronic referral and other advanced cases inbest practice HIE utilization.
Laura McCrary, Ed.D., Executive Director of the Kansas Health Information Network (KHIN), an early adopter of BluePrint: HIE Manager, shared, "HIE Manager allows KHIN to create a more streamlined and effective way to manage our business processes and customer relations." Laura will talk about KHIN's implementation of BluePrint: HIE Manager, at HIMSS booth 8223 on Tuesday, March 5th, from 3:30-4:30 p.m.
"Overcoming barriers to adoption is one of the most significant success factors for an HIE. HIE Manager automates, simplifies, and streamlines the implementation and deployment experience that is often cited by our clients as a barrier to realizing value from their HIE investments," stated Vikas Kholsa, President and CEO of BluePrint Healthcare IT. "HIE Manager enables a truly sustainable business model that will empower healthcare organizations to confidently move forward with connecting their communities of care. We are very encouraged by the early market  reception to HIE Manager, and all indications point toward a very favorable response to our live demos at HIMSS."
Learn more about BluePrint: HIE Manager  or schedule a solution demonstration at your convenience.
Going to HIMSS13?  Experience BluePrint: HIE Manager at booth #8223. Schedule a private demonstration at HIMSS   BluePrint also invites you to mingle with Laura McCrary from KHIN and Sandi Selzer from the Camden Coalition at booth #8223 on Tuesday, March 5th from 3:30 pm – 4:30 pm to learn more about KHIN's implementation of BluePrint: HIE Manager.
About BluePrint Healthcare IT
An authority on providing hospitals, healthcare systems, and other healthcare organizations with products and services for transforming clinical, financial, and compliance operations, BluePrint Healthcare IT was founded in 2003 in Cranbury, NJ. BluePrint maintains active memberships in, and team members devote hours of time, talent, and thought leadership to many industry groups, including: HIMSS, HCCA, eHealth Initiative, DRII, HFMA, IAPP, ISSA, HITRUST, (ISC)2,
and Infragard. Learn more by clicking www.blueprinthit.com or calling 732.607.0011.