Blackhawk Auto Museum Launches Immersive New Site Using TimeShaker Platform
Industry: Education
East Bay Startup Connects Museums with Each Other and Local History
DANVILLE, CA (PRUnderground) November 24th, 2015
TimeShaker, Inc. launched their fourth museum website for the world renowned Blackhawk Auto Museum (blackhawkmuseum.org), a Smithsonian Affiliate, located in Blackhawk Shopping Center in Danville. The new website not only shows off their beautiful, rare car collection but also creates an experience that immerses patrons in automotive history. The museum itself is a showcase of breathtaking automobile design, and the online experience highlights the ingenuity, technology and personalities that make up over a century of automotive history.
"TimeShaker provides tools that bring full historical context to the museum's artifacts, exhibits and narratives," explains CEO Bill Levesque. "For instance, what were the innovations in auto technology when the Model T was built? How was car design influenced by art deco? It's not easy for a small museum to answer questions like these. TimeShaker provides a platform to shed light and educate patrons, letting the museum focus on its core history."
About Blackhawk Auto Museum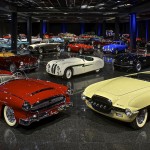 Founded by a partnership between Ken Behring and Don Williams, the internationally renowned Blackhawk Automotive Museum first opened its doors in August of 1988. Housed in a spectacular 70,000 square-foot architectural masterpiece, it showcases a rotating collection of 40 rolling automotive sculptures in a unique 'jewel box' like setting. The Museum is located 30 miles east of San Francisco in Blackhawk Plaza at 3700 Blackhawk Plaza Circle, Danville, CA 94506.
About TimeShaker
TimeShaker (timeshaker.com), a Danville startup founded in 2011 by CEO Bill Levesque and Creative Director Keith Haddock, provides museums with a complete online solution: web presence, kiosks, powerful educational tools, artifact inventory, secure privacy settings, and an innovative approach to planning and project management—all from the client's site itself, powered by the TimeShaker platform.
TimeShaker has created a small but growing East Bay museum network connected by the platform. Other museums utilizing TimeShaker are The Spirit of the Old West (spiritoftheoldwest.org) (also at the Blackhawk facility), the Museum of the San Ramon Valley (museumsrv.org) and the Niles Essanay Film Museum (nilesfilmmuseum.org) located in the old film district of Fremont. Additionally, the upcoming Museum of Natural History at Blackhawk will utilize TimeShaker's artifact inventory management capabilities to manage and share artifacts worldwide.
For more information about TimeShaker, please contact Bill Levesque at 415.816.9661 or billlevesque@timeshaker.com.
About TimeShaker
TimeShaker is a time-based web platform currently servicing museums and other non-profits.