BestCompanys.com Unveils New Embeddable Review Feature to Promote "the Voice of Actual Customers"
Industry: Internet
Companies reviewed at BestCompanys.com can now embed real customer reviews into their own company websites.
SAN FRANCISCO, California (PRUnderground) August 27th, 2015
BestCompanys.com (a digital property managed by SkyRocket Media, LLC) has introducted a new site feature that makes it possible for businesses reviewed on the site to extract real customer reviews and embed them into their own sites.
According to SkyRocket CMO Paul Adams, the added feature is just another way in which BestCompanys.com creates value for companies and consumers alike.
"Most review sites force users to come back to their own site to see what customers are saying about a business," says Adams, "but our approach is different – we are here to provide value not just for the consumers, but for the companies being reviewed as well."
Value Added to Businesses
Adams outlined two major ways in which embedded reviews will benefit companies reviewed on BestCompanys.com. First, reviewed businesses can now acquire real user reviews from a credible third-party, and distribute these reviews wherever the businesses see fit. "We're giving companies the chance to control their own message," Adams says, "we'll supply the reviews, and companies can use them however they please."
In addition to giving businesses greater control over their online reputation, BestCompanys.com works scrupulously to ensure that each customer review it receives has been completely authenticated. Reviews submitted to BestCompanys.com undergo a strenuous review process, which weeds out "fake" reviews, or reviews authored by either competing companies or the companies themselves. "Each review is examined by human eyes," Adams says, "so companies can be assured that the reviews they get from our site are completely real."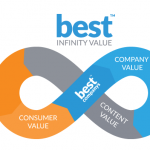 Value Passed on to Consumers
One of the main goals behind the embedded reviews, Adams says, is to "allow companies to promote the voice of actual customers." Adams believes that to consumers, endorsements from actual customers are far more powerful coming from a trusted 3rd party, than reviews posted on a company's website. And as every embedded review links back to the business's full profile (which can include both positive and negative reviews) on BestCompanys.com, "we get the chance to hold companies accountable to the consumer," Adams says.
Value Returned
When asked what, if any, value these embedded reviews return to BestCompanys.com, he concluded, "it shows both businesses and consumers that BestCompanys.com is different from other review sites. We want to build a better consumer experience by helping companies improve their services.  We want to empower consumers with unbiased truth, and we want to help make companies better at what they do.  We believe our site provides that unique value for each."
Media Contact: Ashlie Lewis, SkyRocket Media, 801-899-0023, PR@SkyRocketnow.com
About BestCompanys.com
BestCompanys.com is a web property built on thousands of company reviews in over 100 different industries. These unbiased reviews empower consumers to make smart decisions in an increasingly cloudy marketplace. All companies on the site are not only ranked by experts, but also scored and reviewed by actual users of the product or service, and all consumer reviews are moderated by real people to ensure each comment is valid. Whether a company is exceeding expectations or falling short, we want consumers to know about it. To learn more about BestCompanys.com, visit this link: http://thebestcompanys.com/