Bandy launches unique "free shopping" app in UK
Industry: Mobile Apps
Bandy launches a brand new mobile app which allows you to shop without ever needing money...
London, United Kingdom (PRUnderground) January 26th, 2016
Close your eyes for a moment and imagine a world where you can shop without ever having to spend money… wouldn't it be amazing? Now imagine going into a giant department store. One that's so big, you can find almost anything you've ever wanted within its walls. Fashion, technology, books and films. Whatever it is that you've always wanted, it's right there waiting for you and you won't need a penny to make it yours.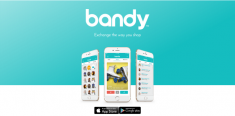 Bandy is a brand new mobile app which brings that dream to reality. Its aim is to revolutionise the 2nd life shopping experience by allowing you to exchange your unwanted items with other people in the local area. Simply upload your items into the app, choose the types of things you'd like to shop for and then start browsing by liking or passing on the items presented to you. If someone likes your item back, you've got a match. You can even find your friends on the app and search what they've got to offer.
Bandy is the brainchild of Harsh Jani and Ross Macfarlane who were looking for a fun and interactive way of getting rid of their unwanted stuff. "With eBay", explains Harsh "just putting an item up for sale can be a long drawn out process. Then, if it does sell – you've got listing fees and commission on top. It's no wonder so many people choose to throw away their unwanted items rather than giving them a second lease of life". There's an environmental angle to it to. Bandy aims to encourage more people to think first, before binning their unwanted items. With the UK population sending almost 27 million tons of rubbish to landfill in 2014 (2015 figures have yet to be released) there's a real need to think beyond plastic bottles and cardboard boxes when it comes to recycling.
The scarily addictive mobile app, which works in the same style as the popular dating app Tinder, launched in mid-December, perfectly timed to coincide with the January rush of unwanted Christmas gifts. "The uptake has been strong and the feedback so far has been hugely positive", said co-founder Ross "the only downside with the app is that you could end up with even more stuff than you started off with".
Bandy is currently available for download for the iPhone / iPad. An Android version of the product will be available later in the year.
About BandyIt LTD
Bandy is a brand new, mobile app which aims to revolutionise the 2nd life shopping experience and reduce waste going to landfill by allowing you to exchange your unwanted items with other people in the local area.