Atlanta, Ft. Lauderdale lead in bank customer complaints, CardsMix study shows
Industry: Banking & Loans
A study shows that East Coast states are leading in bank customer complaints. Surprisingly, 4 out of 10 US cities with most complaints are located in sunny Florida.
Washington, DC (PRUnderground) March 30th, 2015
For our study on bank customer complaints we combined Consumer Financial Protection Bureau (CFPB) statistics with the 2010 US census data on population.
A majority of the 500,000+ bank clients' complaints are mortgage related – it represents more than 38% of the total number.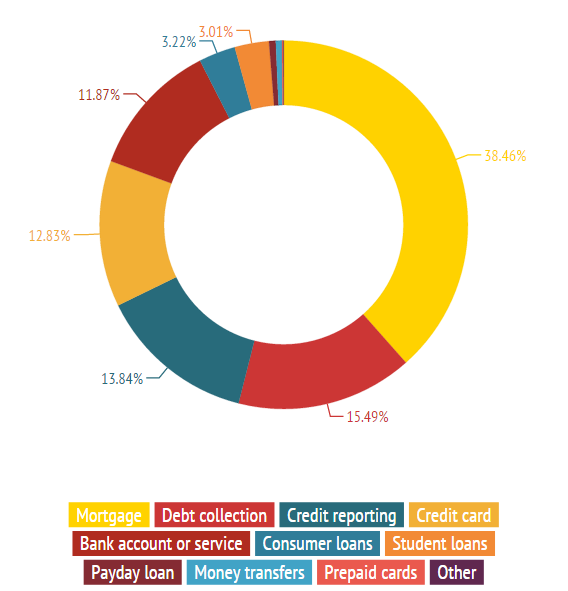 Regional breakdown of complaints is quite consistent across all participating regions – meaning that the share of mortgage-related complaints is high across all the cities shown in the study.
The top 5 regional markets (out of cities with more than 500,000 population) with the highest number of complaints per capita are Atlanta GA, Fort Lauderdale FL, Fort Worth TX, Washington DC area (with adjacent parts of MD and VA), Miami FL.
Top 5 cities with the happiest bank customers are El Paso TX, Bakersfield CA, Fresno CA, Oklahoma City OK, Salt Lake City UT.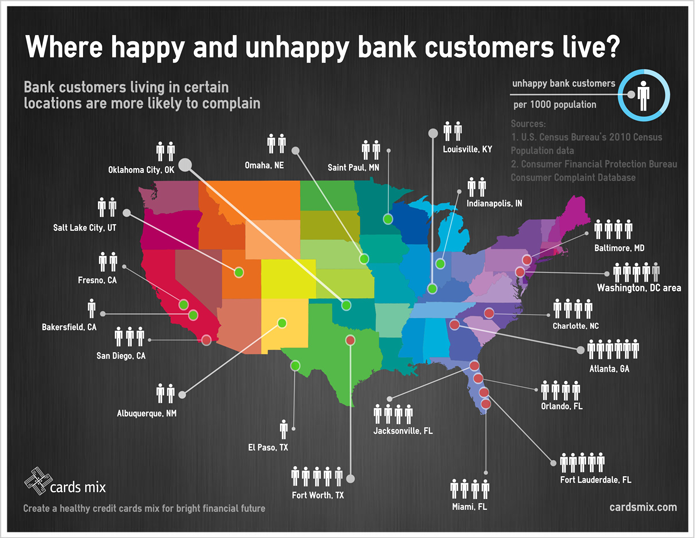 An average number of complaints per 1000 population for the top 10 regions is 4.4. The bottom 10 "happy customer cities" have an average of 1.7 complaints per 1000 population.
On a state level, the picture looks similar with East Coast states leading (see dark spots on the map).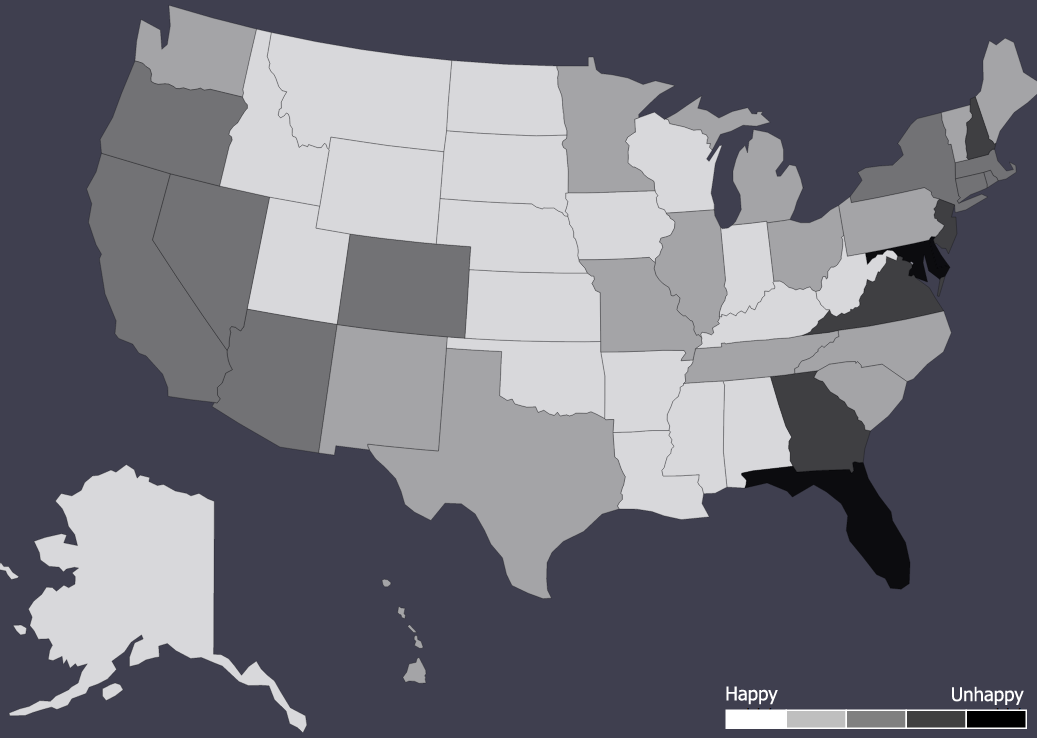 Top 3 states by the number of customer complaints are District of Columbia, Delaware and Maryland.
The main surprise is Florida – it is among the leaders in the number of big cities with bank customer complaints and #4 in the top 10 states with most unhappy bank customers (with 3.6 complaints per 1000 population).
"We see a share of mortgage-related complaints in Florida is slightly bigger than the average – 44% in FL vs. 38% national average. The second and the third reasons for complaints are common across the US – debt collection and credit reporting. The easiest way to interpret the data in our research is that complaints top 10 is correlated with the list of US major financial hubs. But the overweight of Florida looks a little odd", said Alex Gerard a CEO of CardsMix.
About CardsMix
Helping our customers to make the right credit card choice by providing accurate information, expert insights, other customers' views, and powerful, yet simple to use tools.