Art of the TARDIS craft faire at Geeky Teas
Industry: Retail
A love-letter to Doctor Who and those who have traveled within her. Through shared fandom we celebrate with unique gifts at Burbank's only geek themed tea shop.
Burbank, CA (PRUnderground) September 2nd, 2015
"I go zooming around space and time, saving planets, fighting monsters, and being, well, let's be honest, pretty sort of marvelous." — Doctor Who
Can't get enough "Wibbly Wobbly, Timey, Wimey…Stuff?"
Calling all Whovians to "The Art of the TARDIS" at Clockwork Couture on Saturday, September 19th, from 12-6pm at 707 S. Main Street in Burbank.
Time Lords, Daleks, Weeping Angels…Raxacoricofallapatorius…flaunt your knowledge of the Whoniverse or simply have a cuppa and shop for handmade items created by local craftspeople.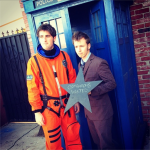 Over 25 vendors and artists will offer their unique Doctor Who-themed wares including food trucks and live music will gather outside L.A.'s finest geek themed tea shop.
This free, family-friendly event offers coloring pages for the littlest Who fans and a costume contest with Whoriffic prizes. Grab your favorite scarf, bow tie or Sonic Screwdriver and have your photo snapped (don't blink!) in a full-size TARDIS. Fun for your inner Gallifreyan.
Allons-y!
About Geeky Teas
Geeky Teas is fandom with flavor. Celebrating nerdiness with themed teas, table top gaming, community center, animal rescue and geek gifts. We are TARDIS builders who have a great selection of licensed Doctor Who, Sherlock, Harry Potter, Downtown Abbey, Star Wars, Star Trek, Pokemon, Adventure Time, Supernatural, Walking Dead, Firefly and much, much more.