Appliance Art's Innovative Product Increases Sales 153% Over Year Prior
Industry: Home Decor
With the launch of Instant Granite, Appliance Art's affordable alternative to upgrading the look of a home has brought the company large sales and media exposure.
Atlanta, Georgia (PRUnderground) March 24th, 2015
When homeowners areready to improve the look of their kitchen without having to pay a fortune, Appliance Art offers custom panel covers for appliances from dishwashers to refrigerators. Appliance Art's products are a unique fusion of modern and vintage styles that are conceptually designed to have that appeal for all to appreciate. The transformation from an original appliance to a "new" appliance with an Appliance Art cover takes as little time as just minutes… and the media is starting to notice.
Alison Smith, owner of Appliance Art, comments. "We've always enjoyed that our products provide homeowners with away to 'upgrade' their kitchen appliances, kitchen, and countertops at a price much lower than an actual remodel." She continues. "In today's economy every dollar counts. We're proud to be able to help consumers save and improve their lifestyle."
As Appliance Art's products continue to get more exposure online from consumer blogs and review sites the major media outlets are picking up on this secret, too. Better Homes and Gardens, known as a resource for learning recipes, entertainment ideas, and health tips, is one of the best selling magazines for home resources. Circulations of theirs often focus on decorating ideas within the home. Issues have featured Appliance Art's stainless-steel appliance film. The magazine comments. "Adhesive film affordable updates the existing dishwasher to match other stainless-steel appliances. The removable peel-and-stick product comes on a roll and can easily be trimmed to size." The media exposure spans from magazines to TV.
Rachel Ray, television personality and home-crafting expert, even featured instant granite countertops on her TV show. With the surge in media coverage, Appliance Art recently expanded their inventory. Homeowners can now completely renovate your counter tops with their new Instant Granite countertop, or add some interactivity to any wall with their Instant Chalkboard. While covering a countertop in a kitchen is not a new idea, this flexible and multi-use product is engineered to look as close to real quarried and polished granite as possible. The advantages in using this cover material are obvious. The cost is very low for such a new look in an outdated kitchen.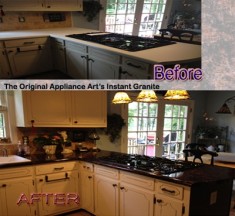 Appliance Art sales manager, Don Berglund, comments on the exposure. "The media attention has brought nothing but positive results. We're proud to report that sales are up 153% over the year prior."
In addition to the media hype, remodelers are quick to see the advantage in the pricing but, there is more. The time and expense of renovation is reduced or even eliminated due to the very fact that one does not need to demolish and replace the countertops now with this new fabric. The application process is so quick and easy, that even a novice can apply this material in only a few minutes, and with very little learning. Since the material has a peel off back, and it has a sticky surface, it simply adheres to the countertop in seconds when applied. This eliminates the need for professional carpenters, plumbers, painters and architects. There are no building permits required, and the down-time for the homeowner is negligent.
The wide array of choices offered by Appliance Art gives room for many creative ideas for kitchen decorating. By announcing their newest line, which features the previously mentioned Instant Granite and Instant Chalkboard, also includes vintage travel posters and advertisements. The staff at Appliance Art hopes to inspire clients. The featured items mentioned are available for purchase now on their website. To learn more about these various appliance covers and instant granite, visit ApplianceArt.com or call (404) 228-6329 today.
About Appliance Art
Appliance Arts offers an creative solution to upgrading your dishwasher, refrigerator or other appliances without having to spend a fortune.