AnyFlip Offers Tips on Using Brochure Maker Efficiently to Business Users
Industry: Technology
AnyFlip has now used its expertise yet again for assisting the users and with the help of it, released tips for creating attractive digital brochures for businesses.
Hong Kong, China (PRUnderground) January 28th, 2016
Brochures do the task of successfully carrying out the marketing efforts of businesses. With businesses getting online, brochures have also become digital. Providing highly versatile and well acclaimed brochure maker for all small and large businesses, AnyFlip has assisted immensely in increasing the success rate of their marketing plan. To assist them further, AnyFlip experts have released tips to aid the users in creating highly engaging and eye-catching digital brochures.
The released tips by AnyFlip can be pointed down as:
·         Choose an easy-to-read font: Though there are numerous options of fonts to choose from, they are of no use if the customer can't read it at first go. So, it is advised to use fonts that can be read without any difficulties. In this fast paced world of today, customers don't waste time on re-reading things.
·         Avoid over-hyped sales pitch: Customer these days are smart enough to know what is real and what is being exaggerated. So it is always advised to keep things simple and true and avoid using over-hyped sales pitch.
·         Avoid too much text: It is an art to say more things in less words and this art is very important while creating brochures. Keep it to the point by providing maximum description in fewer words. Use points rather than long paragraphs.
·         Use high resolution pictures: Pictures play an important role in making the brochure interactive. So use high resolution picture which catches the eye rather than a poor quality one that gives a shaggy impression.
·         Embed a small video: Videos are becoming a hot way of marketing. So whenever possible, embed a small video to introduce more details. It saves words and makes the brochure more engaging.
·         People love to know about the ease, comfort and risk-free nature of shopping. So it is always advised to end the brochure with information about top-notch customer services, money-back guarantee and return policy.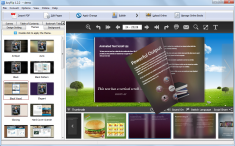 "Once you end up creating your digital brochures, publish it on websites, share via social media and email it for reaching out to maximum number of audiences", advised AnyFLip representatives. The AnyFlip brochure maker enables users to carry out all the brochure creating, publishing and sharing tasks in with great ease in very less time.
For more information, go to AnyFlip website at http://anyflip.com.
About AnyFlip