AnyFlip Highlights Its Latest Flip Book Maker Tools to Mac Users
Industry: Online Marketing
The latest Online Flash Version ensures easy template customization, password protection, superior animations and many more.
Hong Kong, China (PRUnderground) February 3rd, 2016
AnyFlip is proud to introduce their first update in 2016 for the functionally-rich PDF to ebook software. Enhanced desktop version has been added to provide excellent designing experience for Windows users. In addition, the publishers trust this flip book maker for Mac systems as well. Advanced Online Flash Version features are incorporated to deliver superior value to the world-wide Mac users.
The company's representative has elaborated the recent updates to Online Flash Version, which includes:
§  More flexible configuration options for the built-in Templates
§  The improved zoom-in status allows optimization of animation effects in Templates
§  Further enhancement of the Password input function
§  Display setting of the About Button can be easily extended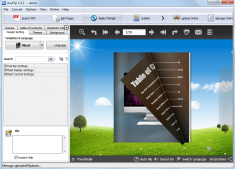 This free flip book maker for Mac solution is the ideal platform for creating & publishing staggering ebooks, digital magazines and brochures. Its intelligent Page Editor allows seamless integration of multimedia content and engaging videos from Vimeo and YouTube. Addition, deletion, reordering and overall page management of flipping books is extremely easy.
In addition to the page turning effect, the publishers also have the choice of selecting Slide-mode for their interactive flipping content. So, the pages of online flip book would slide to the next page just like a card. Good news is that the ebooks created with this AnyFlip software would open in all desktops, laptops and mobile devices. All operating systems Android, Mac, Kindle, Linux and MS Windows can be used to view the digital magazines.
Not only the flip book maker is free, but Cloud Hosting is also provided by AnyFlip without any cost. Offline access to flipping content is also essential as majority of the potential customers might not have internet connection. Digital editions of catalogues and brochures can be handed over to the customers in DVD, USB, EXE, CD or other offline compatible formats.
For more information, go to http://anyflip.com.
About AnyFlip