Amoro Announces "Customize, Not Compromise" Wedding Ring Customization Service
Industry: Jewelry
When it comes to diamond wedding rings, brides should be able to customize their jewelry and not compromise because of price. Amoro's new slogan of "customize, not compro
Grand Bahama, Bahamas (PRUnderground) April 24th, 2015
Wedding ring band and custom jewelry creators, Amoro.com, believes every bride should wear the diamond wedding ring of her dreams. The team at Amoro believes so much so in their new slogan that they have developed a unique service to make affordable wedding ring customization happen.
Amoro's unique wedding ring customization service allows every bride to find her favorite wedding band style and the opportunity to customize it to fit within her personal budget. In no more than five steps, brides can have a completely customized ring and know exactly what they're getting, and for exactly how much.
choose a style
choose a precious metal and color
choose a diamond cut
choose a setting
customize the ring's size and diamond combinations
Once a bride makes her selection Amoro custom creates each ring from a solid piece of gold or platinum and then expertly sets perfectly matched diamonds to the bride's exact specification.
The wedding ring customization service take about two weeks from design to delivery, with free shipping and engraving. Peace of mind is included at no extra charge with customers having each ring 100% guaranteed and crafted from responsibly sourced precious metals and diamonds.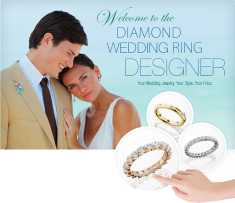 Stephen Crane, Founder of Amoro, comments. "Customization is important because a diamond wedding ring style's price can vary significantly. Some diamond wedding styles are ranging from under $500.00 for the 14kt diamond ring version to $2,500 in a larger Platinum version of the same ring style." He continues. "Amoro's new, online, custom wedding ring builder allows brides with all different tastes and budgets to find exactly what they need."
Mr. Crane believes Amoro.com's web-only services make Amoro's wedding rings exceptional in quality and value explaining, "Amoro's diamond wedding rings are made to the same exacting high standards as famous brands but at significant savings."
To view more about Amoro's custom ring builder options or to shop from an exclusive gallery of pre-designed rings visit amoro.com or call 1-877-772-6676.
About Amoro Jewelry
Amoro.com the romantic jewelry specialist offers custom jewelry – eternity bands, engagement rings, wedding rings, diamond earrings, bracelets and more at significant savings over other luxury brands . Founded in the Caribbean by duty free jewelry visionary Stephen Crane, Amoro.com derives its name from a combination of the Latin words for Love and Gold representing the world\\'s most romantic duty free jewelry. Amoro.com provides fabulously affordable, customizable, fine jewelry in pink, yellow and white gold at duty free prices for discerning jewelry lovers.