American Pole & Timber Chairman Receives Member Spotlight From Pile Driving Contract Association
Industry: Commerical Building
Houston-Based Timber Company's Chairman Receives Member Spotlight Profile in Pile Driving Contractors Association (PDCA) Magazine
Houston, TX (PRUnderground) June 11th, 2015
William Plant, 70 years young, has made his "Consult, Inform, Supply" initiative the most important factor in his business since 1993.  Plant states, "I was frustrated with the lack of knowledge about treated wood and its specifications by builders. They would come to the suppliers with questions and, if those suppliers didn't ask the right questions in return, they wouldn't suggest the right products and the projects weren't completed as they should be." He has made it his life's work to fully understand the needs of each customer. He will ask questions until he has every piece of information needed to understand the entire project, which is necessary in making sure the correct product is used — whether or not he is the one to supply it. Educate and inform; Plant believes in accuracy and superior standards.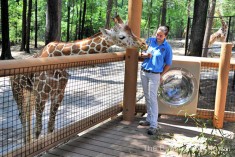 William's company, American Pole and Timber, has been a member of the Pile Driving Contractors Association, as well as many other industry associations and organizations, for several years. His philosophy and guidance has earned the company the attention of industry leaders across the nation who value American Pole and Timber's dedication to its customers' needs and its nearly limitless custom production capabilities. This specific recognition from the PDCA is a huge honor for Plant on the heels of the successful development of the company's uniform diameter (no taper) Gun Barrel Piling™, exclusively available from American Pole and Timber.
The second quarter issue of the PDCA magazine highlights his Gun Barrel Piling™ for their durability, ease of use, and aesthetic characteristics. The images included in the article show impressive use of these pilings at zoos across the United States.
William's jovial personality is a welcome partner with his knowledge in the timber industry, as far as engineers and architects are concerned. "Sometimes they just need information or advice on what exactly they need for their project, or how it should be treated. I am happy to help them."
About American Pole and Timber
American Pole and Timber has the largest stock of structural timber products available and if they don't have what you need, they can make it. Founded in 1993, they are based in Houston, TX and supply projects nationwide as well as overseas.
In addition to supplying large treated timbers, poles, and pilings, they also manufacture custom structural timber products such as timber trusses, estate and ranch gates, and industrial timber products such as equipment saddles, pipe supports, stop logs, and crating for export of large equipment.
American Pole and Timber is FSC Certified, SFI Certified, and certified to provide the \"HT\" stamp to meet ISPM 15 requirements for exporting wood and products overseas. They are commonly involved in LEED projects and have a reputation among their customers for helping to meet project deadlines.