American Pole and Timber Awards Two Scholarships For The Spring 2015 Semester
Industry: Commerical Building
American Pole and Timber Announces Scholarship Award Winners For Spring 2015 Semester
United States (PRUnderground) May 21st, 2015
This year marked the launch of the American Pole and Timber Scholarship, and the first winners have been selected. APT asked the question, "In what ways can the increased use of wood and wood-derived building materials in construction make the most positive impacts on the environment in next 35 years (by 2050)?" Responses came from all over the country, in many different and creative formats, with various ideas and concepts.
After careful consideration two winners were chosen to receive the APT scholarship in the amount of $500 each. American Pole and Timber would like to congratulate:
 -Amos Pudsey, American University
-Christopher Gallegos, Harvard University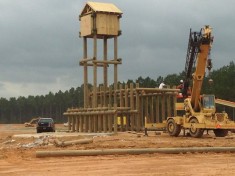 These candidates' research, time, and attention to detail stood out, and the information provided supported their ideas. APT will be featuring their work, along with many others, on the their website, www.americanpoleandtimber.com, within the coming months.
APT urges future interested students to check their website often for other scholarship opportunities, as APT will continue to support students and the advancement of wood and wood-derived building materials.
About American Pole and Timber
American Pole and Timber has the largest stock of structural timber products available and if they don't have what you need, they can make it. Founded in 1993, they are based in Houston, TX and supply projects nationwide as well as overseas.
In addition to supplying large treated timbers, poles, and pilings, they also manufacture custom structural timber products such as timber trusses, estate and ranch gates, and industrial timber products such as equipment saddles, pipe supports, stop logs, and crating for export of large equipment.
American Pole and Timber is FSC Certified, SFI Certified, and certified to provide the \"HT\" stamp to meet ISPM 15 requirements for exporting wood and products overseas. They are commonly involved in LEED projects and have a reputation among their customers for helping to meet project deadlines.