Ambrosi Cutlery: 4th Generation Family Owned Business Dedicated to Sharpening of Professional Cutlery
Industry: Professional Cutlery, Restaurant/Hospitality
Ambrosi Cutlery is the premier commercial and residential knife sharpening service company in the Tri-State area
Mahopac, NY (PRUnderground) September 27th, 2010
Ambrosi Cutlery is a 4th generation, family owned business that is passionate about professional cutlery. They are experts at sharpening professional cutlery and food cutting equipment.
Every Ambrosi Cutlery sharpening technician undergoes a rigorous training program and uses the latest, state-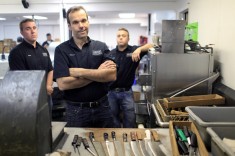 of-the-art equipment and techniques. At Ambrosi Cutlery you can expect dedicated service and high quality. Ambrosi Cutlery is the premier commercial and residential knife sharpening service company in the Tri-State (New York, New Jersey and Connecticut) area.
Ambrosi Cutlery was started in 1930 by Giacoma Ambrosi in New York City. His son Leo then continued the tradition and the family owned business. Today Ambrosi Cutlery is owned and operated by Giacoma's grandson Robert Ambrosi and his two sons, Mark and Jason. The 4th generation, family owned business is professionally trained and are known experts in knife sharpening and professional cutlery and food cutting equipment.
"We pride ourselves on using our product knowledge and expertise to exceed our customers expectations!"
Ambrosi Cutlery will come to pick up your knives at your restaurant/establishment in the tri-state area. Home chefs may wish to use our mail order services. Ambrosi Cutlery services include a weekly knife exchange program, HACCP color coded handles, selling and sharpening of all types of food equipment blades and both residential and commercial knife sharpening services. Every knife is washed and sanitized to ensure proper hygiene and food safety for both your employees and customers.
Whether you are a chef in a five-star restaurant or a passionate home chef, you can enjoy the many benefits of professionally sharpened knives from Ambrosi Cutlery. Ambrosi Cutlery is the #1 choice of many top restaurants and dining/entertainment establishments in the Tri-State area. They are the proud supplier to Yankee Stadium and Legends Hospitality Management. Ambrosi Cutlery was featured in The New York Times article recently, showing their dedication to service and top knife sharpening skills.
About